Classical Indian Dance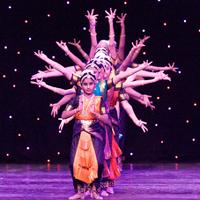 Following a research project and proposal from Akademi, South Asian Dance in the UK, a new ISTD Faculty was set up in 1999 to examine in Bharatanatyam and Kathak, the two classical South Asian dance genres most frequently taught in the UK. Examining started in 2001 in various regions of the UK, with expansion into Europe, Canada and the US, along with enquiries being received from other parts of the world, including Australasia, India and Pakistan.
Bharatanatyam is the name given in the early twentieth century to the dances known as Dasi-attam and Sadir-attam, which evolved over centuries in the temples and royal courts of Southern India. It highlights the beauty of strong lines leading out from the dancer's body and is embellished with intricately expressive hand gestures and elaborate storytelling through exquisite facial expressions.
Kathak originated as a story telling art form in northern India. It developed in Hindu temples and later in Mughal courts. It is characterised by fluid body movements, complex patterns of footwork, fast turns and sudden stillness.
A precise interaction with classical Indian music from South and North India respectively characterises both these dance genres.
---
New Kathak Examiners Required
The ISTD Classical Indian Dance Faculty is seeking to appoint new Examiners in the Kathak discipline. You should be an experienced practitioner in this style and have a good track record of ISTD exam results. Full training will be given. If you are interested in becoming a Kathak examiner with the ISTD please send your CV to
Caroline Lavelle, Faculty coordinator.
C/O Imperial House, 22-26 Paul Street, London EC2A 4QE
Email: tap.indian@istd.org
Closing date for applications 16th October 2015.
---
Classical Indian Dance Examinations
The Examinations Department would like to invite teachers with a limited number of candidates to enter at London Centre, 346 Old Street, London EC1V 9NQ.
We are allocating 8th November 2015 for both graded and vocational exams. Application forms can be downloaded from the website. The closing date for applications and payments is 20th September 2015.
---
Classical Indian Dance Primary Class Examination
Some minor changes have been made in terms of the length of the examination and candidates being required to perform a small section on their own. This has been included in the revised Bharatanatyam and Kathak syllabus outlines, but will be not be effective for examinations until 1st September 2013.
Syllabus outlines
---
The ISTD celebrated its 110th anniversary in 2014
Download a fascinating new history of the Classical Indian Dance Faculty, written to mark the occassion.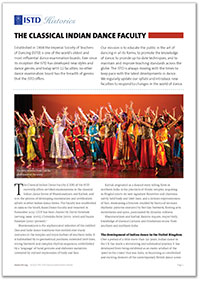 If you would like to find out more about ISTD history you can order your copy of 100 Years of Dance from our online shop.
News
11 Sep

The ISTD Classical Indian Dance Faculty is seeking to appoint new Examiners in t...

09 Sep

Dance Proms returns Sunday 15 November on the iconic stage of the Royal Albert H...
Events
Mon

Tue

Wed

Thu

Fri

Sat

Sun

1
2
3
4
5
6
7
8
9
10
11
12
13
14
15
16
17
18
19
20
21
22
23
24
25
26
27
28
29
30

June 2015
Sunday 01 November

Sunday 01 November