ISTD 'On Show'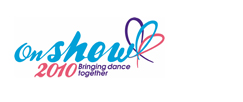 As a member of the Central Council of Physical Recreation (CCPR) Movement and Dance Division, the ISTD was invited to take part in On Show, a showcase event which takes place every five years. Held at the Royal Albert Hall on 25th September, On Show included over 900 performers in 26 styles.
This extra special show marked the 75th anniversary of CCPR as the alliance of representative bodies for physical recreation. Throughout the evening there were some stunning displays from a number of organisations, including 'Yin and Yang' a performance which showcased the balance of nature through movement from the Chinese College of Physical Theatre.
Another outstanding piece was from Dance Voice, whose beautiful performance included dancers with mental health problems and learning difficulties who danced alongside their practitioners. A highlight of the evening was the excited and energetic response of one of the Dance Voice performers to the applause from the audience. Her smile and enthusiastic jumping showed just how much she had enjoyed the experience and demonstrated how valuable dance is to everyone's life.
The ISTD's performance was presented and produced by Miss Karen King and performed by her students from The Centre Performing Arts College. 'In the Mix' ranged from Lyrical Jazz to Hip Hop and was choreographed by Lyn Richardson, Chair of the Modern Theatre Faculty and resident director of Into the Hoods Carrie-Anne Ingrouille. 'In the Mix' was a stunning and energetic performance which truly showed the diverse work of the ISTD's Modern Theatre Faculty.
In true showbiz style the performance ended with Craig Armstrong from Billy Elliot the Musical and Lauren Adams from We Will Rock You leading the audience and performers in a rousing rendition of 'The Lambeth Walk' as cannons burst covering the performers and the front rows with confetti.
This was a thoroughly enjoyable evening and the ISTD would like to thank Karen King, her students and the Modern Theatre Faculty for their contribution to a sensational evening.
Louise Murphy
---
Please note: in the near future CCPR are rebranding themselves as the Sport and Recreation Alliance as it is felt this title is a more fitting explanation of the work of the organisation.