ISTD Street Dance & Commercial Hip Hop syllabus goes to Greece
On Sunday 17th October, Studio Choro-logie in Athens, Greece was the setting for 55 dance teachers to turn their talents to the ISTD's new Street Dance & Commercial Hip Hop syllabus. Presented by Marion Lane, this was an opportunity for the teachers to gain an insight into the syllabus of the DFR Faculty and learn about the many opportunities for continuing professional development available to teachers in Greece.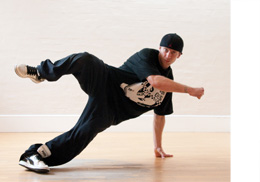 The work was presented to the teachers by guest performer Dennis Victory whose stage credits include Daddy Cool, Dirty Dancing and Fame. He used his energy and enthusiasm to bring the syllabus alive for the Greek teachers.
The day was aimed at helping teachers in Greece expand their class programme and to highlight the variants of styles available within this hugely popular genre with the hope that this will attract new pupils to the teachers' classes.
The success of this event really shows the popularity of the style and we would like to thank Marion Lane, Dennis Victory and our team in Greece. Further details of the day will be in the next edition of DANCE.