Level 6 Diploma in Dance Pedagogy
The Level 6 Diploma in Dance Pedagogy programme is an exciting venture for the ISTD for many reasons. Firstly, this qualification brings together both experienced dance teachers and ex-professional dancers into a programme that will develop and refine their teaching skills within their chosen genre. Secondly, this is the ISTD's first ever qualification accredited at Level 6 of the Qualifications and Credit Framework, which is equivalent in level of demand to the final year of a degree. Thirdly, the qualification is considered by the Institute for Learning (IfL) to cover the requirements of the Level 5 Diploma in Teaching in the Lifelong Learning Sector (DTLLS). This provides holders of the qualification with the opportunity to teach in the further education and skills sector in England and Wales. Fourthly, on completion, successful learners can apply for Licentiate membership of the ISTD in the relevant genre. Finally, it is the first qualification that the ISTD will be delivering directly from our ISTD2 Dance Studios in central London.
It was therefore with excitement and trepidation that I entered our ISTD2 Dance Studios on the morning of Saturday 21st January for the first day of the programme. This welcome weekend was an opportunity for the learners to get to know each other, to meet some of the lecturers involved in the delivery, Alison Beckett and Vivienne Saxton, and to meet their personal mentors, who will be guiding them throughout the two year programme. After the introductions were over, the lectures began. Over the course of the weekend, the learners discussed the roles and responsibilities of the dance teacher, discovered different learning theories, and delved into models of reflective practice and their application to dance teaching. Overall, the weekend gave everyone a chance to engage with exciting new topics and begin their journey of discovery on how to become the best dance teacher they can be.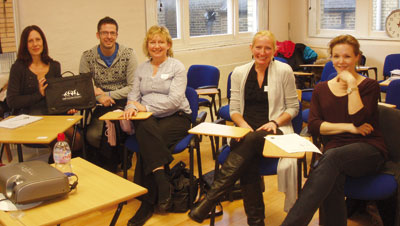 Why choose this programme?
Competition for jobs within the dance sector is fierce and the need for recognised teaching qualifications is more critical than ever. In addition, the ISTD understands the importance of sustaining a lifelong career in dance teaching. So what are the benefits of choosing this programme?
With a recognised dance teaching qualification from the ISTD, you can open your horizons to a much wider range of opportunities across the private and public sectors
It is important to invest in, and be passionate about, your own continuing professional development
It should improve your employability
Through the learning and critical reflection process, you will grow and develop both professionally and personally
If this qualification appeals to you, then take a look at the details listed below. For full details, please visit www.istd.org/courses-and-training
Entry requirements: There are two main routes into this qualification. If you meet neither requirement, please contact the Education & Training Department who can discuss your application and your suitability on an individual basis.
Experienced teacher route – you should have the following:
Experience of regular dance teaching over three years
The Intermediate examination in the relevant genre
One of the following qualifications in the relevant genre:
Level 4 Diploma in Dance Education
Certificate in Dance Education
Associate Diploma
A recognised dance teaching qualification at the same level or higher with another awarding body
Professional dancer route – you should have:
A highly developed level of technique in the relevant genre
At least five years regular employment as a professional dancer
Experience of coaching or teaching is beneficial
The Intermediate examination in the relevant genre
Units within the qualification: There are seven units in total that are listed below. Please note that the ISTD recognises prior accreditation and achievement. Therefore, exemptions can apply in certain circumstances, eg if you have already achieved your Advanced 1 in the relevant genre, or if you have passed CDE Units 4 and/or 5.
| | |
| --- | --- |
| Unit 1 | Planning and evaluating programmes of learning (30 credits at Level 6) |
| Unit 2 | The practice of dance teaching and learning in a chosen genre (30 credits at Level 6) |
| Unit 3 | Certificate in Vocational Graded Examination in Dance: Advanced 1 (33 credits at Level 4) |
| Unit 4 | Principles and practice of dance and choreography in a chosen genre (30 credits at Level 6) |
| Unit 5 | Health and safety in dance (30 credits at Level 5) |
| Unit 6 | Lifespan development and learning in dance (30 credits at Level 5) |
| Unit 7 | Reflective practice and continuing personal and professional development (30 credits at Level 6) |
Applications: For the January 2013 start, applications will be open between 1st July and 10th September 2012. Application details and fees will be available in June. Interviews will take place during the week commencing 1st October at our ISTD2 Dance Studios and all applicants must be available during that week.
Contact details: If you have any questions about the programme, please contact Siobhan O'Hagan in the Education & Training Department on +44 (0)20 7377 1577 (ext. 837) or email educationassistant@istd.org
Nathalie Islam-Frénoy