Summer Programme 2014
Date:
Sunday 3 Aug 2014
Venue:
London, UK
Country:
United Kingdom
Faculty:
Cecchetti Classical Ballet, Classical Greek, Classical Indian Dance, Imperial Classical Ballet, Modern Theatre, Tap Dance
Course summary:
Sunday 3rd – Sunday 24th August 2014. Includes all of the opportunities usually found at Chichester and the July courses at ISTD2.
Course details: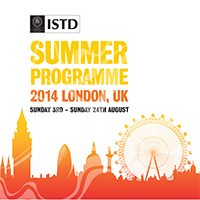 This year, the ISTD is proud to offer an extended Summer Programme – an entirely flexible and exciting learning experience delivered at ISTD2 Dance Studios and The Urdang, The Old Finsbury Town Hall.
A great chance for all of our UK and international members to participate in this event, which includes ISTD syllabus refreshers and other classes for students and teachers delivered by guest lecturers.
Booking forms can be found at the bottom of the page or by clicking here.
---
PROGRAMME