Disco, Freestyle & Rock 'n' Roll
The aims of the Faculty are to create a sound and safe technique for Disco, Freestyle & Rock 'n' Roll and Country Western Dance while understanding the need to allow freedom of expression and musical interpretation and to educate teachers that dance within this Faculty is an ever-changing art form. Modern music, trends and different cultures will always give us new challenges and material to introduce to our dancers.
Please note: formation team routines should follow the same path as solo medal levels, e.g. sdt, pre bronze, bronze, silver, gold, stars etc.
1st, 2nd & 3rd April @ ISTD2 Dance Studios, London UK

Making the grade - developing technical excellence in freestyle dance.
Don't miss these three days of training this April covering the Grades 1 - 6 and Intermediate syllabus. Refresh your knowledge and stay up-to-date! Lectured by Faculty Chair Yvonne Taylor-Hill, each course day will include thorough teaching of the full set of exercises from each level, with examples of unset work and Amalgamations from the Disco Freestyle Glossary. Download a flyer with full details.
View events photos
Upcoming events
Syllabus outline
Download the Disco, Freestyle, Rock 'n' Roll syllabus from the dance sport syllabus page.
Set Dance DVD 2015–2016 still available
For price and to place an order please contact Patsy Graham: dfr@btinternet.com
Please note: The title of a DFR Faculty genre currently known as 'Street Dance & Commercial Hip Hop' has been shortened to 'Street Dance' as from January 2015.
A Glossary of Technical Terms for Street Dance is available from the ISTD Shop.
-----------------------------------------------------
For price details and to place an order for Set Dance DVD 2013–2014, please contact Patsy Graham on 01494 513135. DVDs from previous years are still available and make wonderful material for class and examination work. For DVDs prior to 2011/2012, please apply directly to the ISTD Shop on 020 7377 1577 ext. 810 or ext. 811. For later copies, please contact Patsy Graham for availability and price.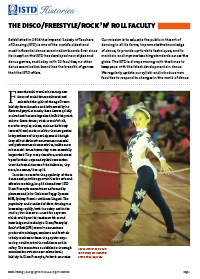 The ISTD celebrated its 110th anniversary in 2014


If you would like to find out more about ISTD history you can order your copy of 100 Years of Dance from our online shop.
News
06 Jul

Julia Westlake reports

01 Jul

Following the result of the referendum on the UK's membership of the EU, the IST...
Events
Mon

Tue

Wed

Thu

Fri

Sat

Sun

1

2

3

4

5

6

7

8

9

10

11

12

13

14

15

16

17

18

19

20

21

22

23

24

25

26

27

28

29

30

31

October 2016
Sunday 11 September

Sunday 18 September