Dancesport Worthing Congress 2012
Start date:
Saturday 21 Jul 2012
Start time:
Various
End date:
Monday 23 Jul 2012
Venue:
Assembly Rooms, Stoke Abbot Road, Worthing, West Sussex
Faculty:
Club Dance, Disco, Freestyle & Rock 'n' Roll, Latin American, Modern Ballroom, Sequence
Event summary:
A weekend of workshops, demonstrations, evening dance and the Phyllis Haylor Scholarship.
Event details:
The 2012 Dancesport Worthing Congress, workshops and summer dance will take place at the Assembly Rooms in Worthing on Saturday 21st, Sunday 22nd and Monday 23rd July 2012.
Join us once more for a weekend packed with information, participation and fun!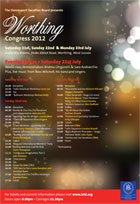 Download a flyer for your dance school.
Programme
Saturday 21st July
14:00: Reception
14:30: *Latin American Workshop - Lorna Lee
15:30: Tea
16:00: *Ballroom Workshop - Michael Reilly
Sunday 22nd July
09:00: Reception
09:30: *Rumba & Cha Cha Cha Variations and Interpretation - Malcolm Hill
10:00: Teaching Tips for all Age - Crystal Main
10:30: *Classical Sequence - Anne Lingard
11:00: Coffee
11:30: *Class Variation - Quickstep 15 mins - Katie Gleeson
*Class Variation - Foxtrot 15 mins - Alex Shindila
12:00: *Rumba & Jive Variations - Djordje & Emma Tanasijevic
12:30: Lunch
13:30: New and International Members' Party
14:00: 'Making Ballroom Cool for Kids' - Claire Thompson
14:30: *'Using you imagination' Part 2 - Julie Tomkins
15:00: *My Club Dance Class - Elaine & Paul Hills
15:30: Tea
16:00: 'The Importance of Line' - Monica Needham
16:30: *DFR 'Solo to Pairs' - Laura Rampton & Jonathan Reed
17:00: *Samba & Cha Cha Cha Variations - Damian Evans
17:30: Finish
Monday 23rd July
09:00: Reception
09:30: *Paso Doble & Jive - Richard Still & Morgan Hemphill
10:00: *Class Variation - Tango 15 mins - Mario De Marco
*Class Variation - Waltz 15 mins - Emma Hawley
10:30: *Modern Sequence - Glen Badham
11:00: Coffee
11:30: *'It's all about the Action' - Graham Oswick
12:00: *Foxtrot & Quickstep Variations - Greg Gillespie
12:30: Lunch
14:00: Solo Demonstrations in Ballroom Professional Examinations - Vernon Kemp & Anne Lingard
14:30: *Latin Sequence - Lorraine Kuznik
15:00: *Basic Principles. Rhythm, Tango and Viennese Waltz - John Taylor
15:30: *Samba & Jive Variations - Lorraine Kuznik
16:00: Finish
(* denotes participation)
Evening Dance on Saturday 21st July featuring world class demonstrators Andrea Ghigiarelli and Sara Andracchio plus live music from Ross Mitchell, his band and singers. Doors open 8pm. Carriages 11.30pm.
Ticket Information
Saturday day workshop, open to all amateur pupils i.e. (over 16): £10.00 (free to ISTD members)
Saturday evening dance: £20.00
All-day Saturday ticket: £25.00
Tickets for Saturday's events are available from Mrs P. Miles, 218 London Road, Teynham, Sittingbourne, Kent ME9 9QD or phyllismiles@tiscali.co.uk
Sunday day ticket price: £8 (payable on the day only)
Monday day ticket price: £8 (payable on the day only)
Joint ticket price (Sunday & Monday): £15 (payable on the Sunday only)
Students and non-members who would like to book tickets for Sunday and Monday should contact Beverley McDermott on bmcdermott@istd.org or call +44 (0)20 7377 1577.
All members attending both Congress days will receive a complimentary DVD.
---
The Phyllis Haylor Scholarship will be held during Worthing Congress on Saturday 21st July.
Eligibility: All Dancesport candidates who attained Highly Commended in their Associate examinations during the 12 months between 1st June 2011 to 31st May 2012 are eligible to enter. Please note that you must not hold Licentiate, CDE or higher (in any ISTD faculty) as this is only open to Associates in the Dancesport genre.
The Scholarship: The winner will receive £2,000, to be spent advancing their Dancesport training and it will be paid direct to the winner's instructor(s).
Closing date: The closing date for entries is 1st July 2012. Please note that all candidates eligible for the scholarship have been contacted directly so this deadline is published here for reference purposes only.
Read our report from last year's Dancesport Worthing Congress held on 16th-18th July 2011 at the Worthing Assembly Hall.