ISTD Dinner Dance 2012
Date:
Sunday 18 Mar 2012
Start time:
Reception: 6.30pm
Venue:
New Venue! The Marriott Grosvenor Square Hotel, London

Event summary:
For the first time in 15 years, the annual Dinner Dance of the ISTD will make an exciting move to a new venue – the stunning Marriott Grosvenor Square Hotel, one of Marriott's flagship hotels.
Event details:
This event celebrates the achievements and exceptional work of our teachers and includes dinner, an awards ceremony, musical entertainment, world class cabaret performances and, of course, dancing.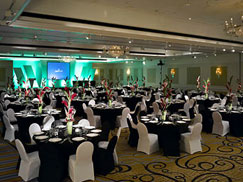 The Marriott Grosvenor Square Hotel has recently undergone a multi-million pound renovation, evident in the beautiful Westminster Ballroom where the Society's flagship Dinner Dance event will be held under the elegant fairytale chandeliers.
The Westminster Ballroom is one of the largest pillar free venues in London and can seat up to 550 guests – ensuring a glittering night of dancing for all!
The Marriott Grosvenor Square Hotel is located right in the heart of London and close to both Oxford Circus and Bond Street tube stations, making travel very convenient for all of our guests.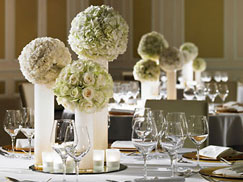 A highlight each year in the ISTD calendar, the Dinner Dance was previously held at the London Lancaster Hotel and the guest list includes ISTD Faculty Committees, members and special guests.
In 2012, we are delighted to announce that the evening will include a performance by World Professional Latin Champions, Michael Malitowski and Joanna Leunis, as well as a performance by the students from Performers College.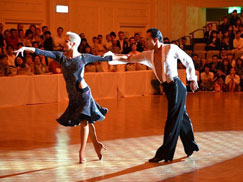 The Dinner Dance is to take place on Sunday 18th March 2012.
Click here to read an interview with our guest performers.
Music by Ross Mitchell, his band and singers
Black Tie. Both members and non-members are welcome.
Tickets start from £57.50
For more information or to book tickets please call +44 (0)20 7377 1577 ext. 806.
Menu
Starters: Smoked Trout Parfait, Pink Pepper, Brioche, Radish, Parsley and Quail Egg OR Baked 'Rosary' Goats Cheese, Beetroot Carpaccio, Cress, Greek Yoghurt and Honey Dressing (V)
Intermediate: Soup: Leek and Potato Truffled Crème Fraiche (V)
Mains: British Spring Lamb Cutlet, Dauphinoise Potato, Olive Purée, Green Beans and Smoked Tomato Jus OR Wild Mushroom and Spinach Cannelloni with Aubergine Purée (V)
Dessert: Strawberry Cheesecake, Strawberry Sorbet and Peppered Popping Candy
Fresh Filter Coffee or Tea and Petit Fours
The Marriott Grosvenor Square
Rooms are available at the Marriott Grosvenor Square at a rate of £150 + VAT. Please contact Katya Nunziati on 0207 514 1514 and mention the ISTD Dinner Dance.
Parking
NCP Mayfair is located just opposite the hotel and there is also free street parking on Sundays.
---
The 2012 Dinner Dance is sponsored by