CANCELLED - Street Dance & Commercial Hip Hop Teachers' Workshop
Date:
Monday 28 Oct 2013
Start time:
10am to 4pm
Venue:
ISTD2 Dance Studios, London EC1V 9NQ
Country:
United Kingdom
Faculty:
Disco, Freestyle & Rock 'n' Roll
Event summary:
Due to the weather and cancelled train the workshop has been cancelled. We apologise for any inconvenience. The workshop will be rescheuled and we will let everyone know the revised date as soon as can.
Event details:
Develop your Street Dance and Funk Style skills with a full-day workshop featuring Popping, Locking, Breaking and Commercial Dance.
Discover new teaching techniques
Learn choreographic ideas for various levels
Make Hip Hop Freestyle fun!
Open to all - non-ISTD teachers are welcome! Price: £30.
Pre-booking is essential.
Email dfr@btinternet.com by 30th September to reserve your place!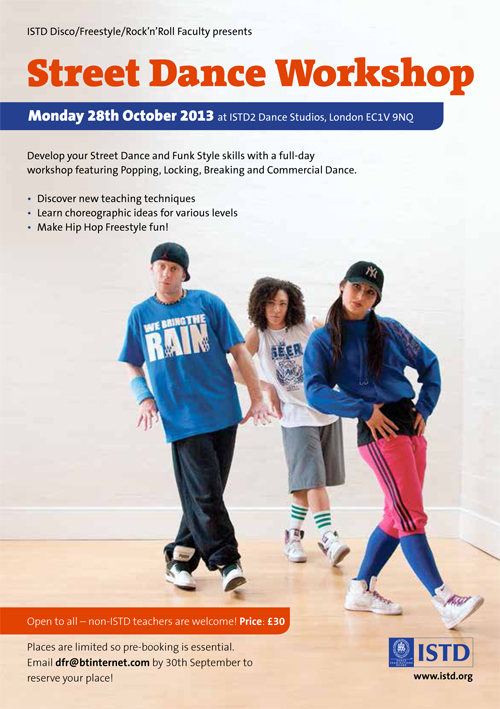 NEW: A Glossary of Technical Terms for Street Dance and Commercial Hip Hop will be available in Summer 2013 from the ISTD Shop.