Modern Ballroom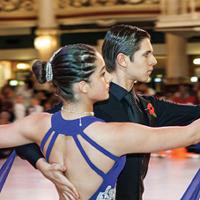 This dance style includes several techniques such as the Waltz, Foxtrot, Quickstep and Ballroom Tango. These are all social dances which were seen throughout Western Society from around the beginning of the twentieth century. These dance techniques vary in style but are all partner dances; today they are most commonly seen at competitions, at social gatherings or on stage.
---
If organisers know of dates they would like to appear on the pages of DANCE, please contact Nick Miles on 07733 262387 by Monday 19th October 2015 to ensure that your dates appear in the next issue.
---
New Examiners
The Latin American and Modern Ballroom faculties are on the lookout for new examiners.
If you are interested in becoming an examiner of the ISTD either now or in the future and currently hold your Fellowship exam in Latin American, Modern Ballroom or ideally both then we would be interested to hear from you.
Please contact the Faculty Co-ordinator for Latin American and Modern Ballroom Mrs Joanne Blackshaw at Latin.Ballroom@istd.org for more information. The closing date for this year is 1st November 2015.
---
Syllabus outlines
Download the American Smooth syllabus outline from the dance sport syllabus page.
The up-to-date Modern Ballroom syllabus outline will be available shortly.
Ballroom competition rules: At present the rules are being revamped and new rules will appear here for the 2015 season.
---
The ISTD celebrated its 110th anniversary in 2014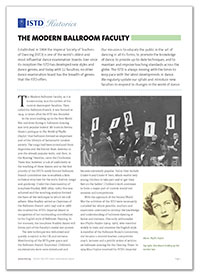 If you would like to find out more about ISTD history you can order your copy of 100 Years of Dance from our online shop.
News
09 Sep

Dance Proms returns Sunday 15 November on the iconic stage of the Royal Albert H...

12 Aug

Results and photographs from this year's Bill Irvine and Pierre Trophy competiti...
Events
Mon

Tue

Wed

Thu

Fri

Sat

Sun

1
2
3
4
5
6
7
8
9
10
11
12
13
14
15
16
17
18
19
20
21
22
23
24
25
26
27
28
29
30

September 2015
Saturday 31 October

Sunday 15 November