Modern Ballroom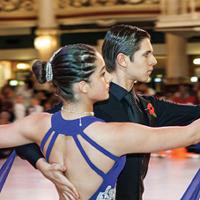 This dance style includes several techniques such as the Waltz, Foxtrot, Quickstep and Ballroom Tango. These are all social dances which were seen throughout Western Society from around the beginning of the twentieth century. These dance techniques vary in style but are all partner dances; today they are most commonly seen at competitions, at social gatherings or on stage.
Click here to download our syllabus outlines.
Click here to download the Modern Ballroom and Latin American medallist competition rules (September 2011).
News
03 Apr

Remembering Frank Herbert Westbrook 4th September 1920 – 21st September 2012

18 Mar

Award-winning documentary that holds a mirror up to the world of competitive dan...
Events
Mon

Tue

Wed

Thu

Fri

Sat

Sun

1

2

3

4

5

6

7

8

9

10

11

12

13

14

15

16

17

18

19

20

21

22

23

24

25

26

27

28

29

30

31

August 2013