Only two weeks to apply for the Pierre Trophy competition!

17 June 2014
You have until Friday 18th July to apply for this prestigious competition! We're bringing back The Pierre Trophy at Dancesport's Worthing Congress this year and would like to encourage as many ISTD professionals as possible to compete for this superb trophy.
The competition will be held on the Saturday evening, the 26th July and will be judged by the Latin American Committee members. Although dancing in pairs, all entrants will be judged individually.
Anyone who holds an ISTD Latin Associate exam or above is eligible to enter and practise wear is to be worn, no competition dress allowed.
The dances for the competition are all five Latin dances restricted to ISTD syllabus figures.
Registration and enquiries for entry should to be sent by Friday 18th July to the Latin Secretary, Mrs Joanne Blackshaw - email: latinsecretary@aol.com.
Click here to download the entry form.
For information about how Monsieur Pierre formed the Latin American Faculty in 1946, click here.
---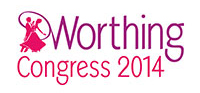 For more information on Worthing Congress please click here