Your Letters & Photos
Olympic torch visits exams
On 30th and 31st May 2012 we had the pleasure of welcoming Mrs Penny Lazenby to our school for two days of exams in Modern and Tap.
We had not realised when we booked the exam session that on the Thursday the Olympic Flame would be passing through our town. The day was full of excitement for the exams inside the studio, and outside the studio we had the BBC Live Cam on to watch the flame travel though our town.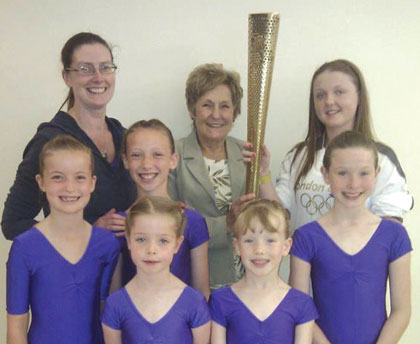 Dance student Amie Kilkenny with the Olympic Torch
Early in the morning as exams were starting we were even more excited as we watched one of our own students carry the Olympic Torch herself. We were all cheering her on. I personally got really emotional, I did not expect it at all but Amie Kilkenny (now 18) has been a Theatreworks student since a very young age. She has been a pleasure to teach and to see her run with the flame was so touching.
Even better was that towards the end of our exam day Amie came to visit us with her Olympic Torch, cue more tears! All the students coming out of their exam and going into the exam were so excited to see Amie and she became a celebrity with many photos being taken. Not wanting to be missed out, we asked Mrs Lazenby if she would like to meet Amie (who will be taking her Intermediate Tap exam in our next exam session in September). So Amie and some students who were taking exams went to show the amazing torch to Mrs Lazenby, who was lovely with all the children and pleased to be part of our exciting day.
Glenda Hill (Sept 2012)
Fellowship Examinations in Hong Kong
I have always been proud to be part of the ISTD since my first organisation of ISTD examinations in Hong Kong in 1996. For the past 16 years, I could only organise Fellowship examinations once in 2006 as the ISTD requires two examiners to conduct a Fellowship Examination. Prior to 2006, for the preparations of the first ever ISTD Fellowship examination in Hong Kong, I had organised several seminars for the potential candidates under the guidance of Mr Richard Hunt who had come to Hong Kong to deliver the seminars in different months over one year or so.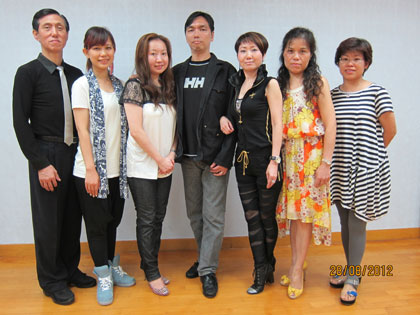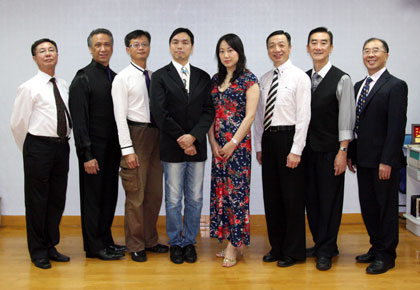 Lawrence Chan with two groups of Fellowship Examination candidates
With accumulated experiences over the past six years, I was delighted to organise the second Fellow examination session in Hong Kong from 10th – 15th August with 17 candidates (13 in the Modern Ballroom Faculty and 4 in the Latin American Faculty) and all managed to pass. A new page in ISTD examination history was created!
Lawrence Chan, ISTD Fellow and Examiner (Sept 2012)