FitSteps – Fitness That's 'Strictly' Fun

20 September 2013
We talk to Ian Waite about the latest craze in dance fitness that combines Ballroom and Latin steps
FitSteps® first started in 2013 as the result of a collaboration between two of the UK's most famous Ballroom dancers and Britain's most successful swimmer!

During the long, arduous dance training sessions that are an integral part of the BBC's Strictly Come Dancing, Natalie Lowe, Ian Waite and Mark Foster had a great idea. They decided to mix the graceful steps of Ballroom and the up-tempo steps of Latin dances together to create a fun, energetic and effective way to stay fit that would appeal to all age ranges and levels of ability, even non-dancers. As a fitness class delivered through dance, FitSteps has not only proved popular throughout the UK and Ireland, but also has the potential to make a real and lasting impact on the health of the nation.

DANCE magazine speaks to Fitsteps co-creator and ISTD member, Ian Waite, about the inspiration behind FitSteps and his plans for the future.

What made you decide to set up FitSteps? Where did the idea for a fitness class incorporating Latin and Ballroom come from?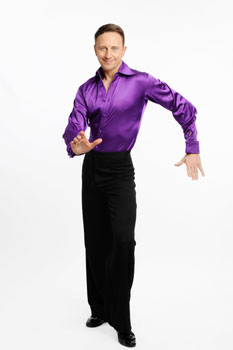 I believe that people have been looking for a concept such as FitSteps for a very long time. With the success of Strictly in recent years, the idea of putting together a fun but effective workout using the Ballroom and Latin steps that people see on the show seemed like a no brainer! It is something we have wanted to do for a long time and when we then met the team we have now, who all have excellent track records in the fitness industry and sales and marketing, we knew it was the time to go for it.
What does the training consist of?

The FitSteps training is an intensive one day event. The courses are Skills Active certified and open to all, particularly dance and fitness professionals. The training days are run by either myself, Natalie, or the Master Training Team with whom we work very closely. You will learn how to take the basic steps of four dances: the Waltz, Quickstep, Cha Cha and Jive, and turn them into a fantastic FitSteps class that will bring enjoyment, fun and results to your class members, whatever their levels of fitness.

What happens once someone is trained as a FitSteps teacher? What kind of help will they receive afterwards?

This is something that is very important to us. We are committed to helping our instructors to build brilliant, sustainable businesses and really want to help to make your business a success. All instructors are given the option to join FitSteps® Academy Network, the 'FAN'. They will get new music, choreography and lots of help and advice on growing their business.

How has your ISTD training influenced your career?

My ISTD training has been a huge addition to my career and really helped me achieve a good standard from the beginning. My stepmother, Mary Richardson, who played a big part in my training, is an honorary member, and it is one of the best associations to be connected with. It has helped me with everything, from competitions right through to choreographing the routines for FitSteps.


"My ISTD training has helped me with everything, from competitions right through to choreographing the routines for FitSteps"

Do you think the popular appeal of shows like Strictly Come Dancing encourages people to get into dance and fitness?

Yes I do. Apart from Zumba, there hasn't been another big dance fitness class out there in recent times and I think people have been waiting for it. The fact that people don't need a partner and anyone can do it just adds to the appeal. Along with the fact that they are learning the steps that they see the pros and celebrities dancing on Strictly.

What does the future hold for you?

I still have my own classes, both FitSteps and Ballroom and Latin on a Monday and Tuesday. I will also be back on your screens soon with It Takes Two on a Wednesday. I will be trying to pop along to as many FitSteps training days as possible, as well as working with Natalie on new choreography to keep FitSteps exciting and fresh!