2014 ISTD Spring Congress & Dinner Dance

23 June 2014
Various reports on the day's event and a fabulous evening at the Marriott Grosvenor Square on Sunday 16th March
ISTD Dancesport Faculties Spring Congress
Simon Cruwys reports on this year's successful day of dancesport, held at the Marriott Grosvenor Square on Sunday 16th March 2014
On a bright Sunday morning after a very pleasant drive from Bournemouth, with coffee drunk and croissants devoured, I sat alongside fellow ISTD members (from dance champions and celebrities to good old fashioned bread and butter teachers) while we all anxiously waited to offer up our work and ideas to Congress.
The first lecturer of the day was Pamela McGill, an ISTD favourite, with the ability to captivate her audience with charm and modesty. First was jive, an eight-bar routine packed to the brim. Then drunken sailors, stalking walks, flick ball changes, open position, shadow position and everything in-between. Followed by rumba – a slight change in the routine by Pamela as she was keen to get to the part where she grabbed her partner's waist – none other than Matthew Cutler! However, after composing herself (although the other ladies in the room could not see how) she continued with the task in hand: curl, progressive walks, swivels and more.
Second up was Alexandru Sindila, partnered by Katie Gleeson. A foxtrot routine with a flavour of simplicity; silver and gold figures melted together with a star ending. The quickstep came next, again a lovely use of standard figures, plus that old favourite the pepper pot and a combo of woodpeckers and pendulum points.
Finishing the morning trilogy were two mini lectures on behalf of the Sequence Faculty. These were two dances: rumba adora by Joanne Blackshaw and let's jive by Caroline Fowle. Both are qualifying dances for the fiercely contested Grand Finals, but are also well received in weekly classes up and down the country.
"The ISTD rocked! Well done to all involved in another fabulous Congress"
After a well-earned coffee break, Vernon Kemp brought the room back to full alert with How to Prepare for the Licentiate Modern Ballroom Examination. This was an informative lecture, covering the need-to-know differences between associate and licentiate examinations. A well received lecture by the Congress and very worthwhile.
One more lecture before lunch – Salsa, the Cuban way. Suzanne Hammond and Ian Postle (writer of the ISTD's new Cuban syllabus) gave the participants a fun and demanding exploration of gold figures that, at first glance seemed complicated and far more advanced. After a fun filled half hour, all who took to the floor walked off with smiles and a real sense of achievement. I'm sure that more Cuban classes will be starting thanks to these two lecturers.
Matthew Cutler was next, assisted by…himself! This was a very stylish lecture showing that great shaping and visual leading can capture the minds of the spectator. Paso doble was first with promenade walks, a zig zag, chasse cape and twists. Then the cha cha cha, a natural top with, naturally, a change of rhythm for the man and some Cuban rocks for the lady, another zig zag and some sexy swivels. This was fun and informative teaching by this talented young man.
| | |
| --- | --- |
| | |
Developing My Style was the subject covered by Hazel Newbury MBE. This was a most interesting lecture explaining the complexities of learning and therefore teaching. Also, how the different senses play a vital role in the development of a dancer. An individual will lean towards one sense more than another. Following and leading through heightened awareness of these senses was enjoyed by those taking part. Finally a superb routine of simple figures was performed by Hazel, showing just how much we can create sway, contra body movement and drive. This was all delivered in a fun way and dedicated to her mentor and teacher, Ron Lubbock.
Licentiate Latin American was the next topic with Julie Tomkins, the ISTD Latin American Faculty Chair. She gave a clear and informative insight into this higher level of exam. Smaller details were also covered, such as maintaining a consistent use of a particular line of dance (even in non-progressive dances) and a consistent delivery in the order of content. We were reminded that this is a teaching exam as well as a technical exam, so a candidate needs to know how to overcome difficulties that a pupil may have as well as developing figures.
Back to some variations – this time it was Katie Gleeson talking the talk and her partner Alexander assisting. Fabulous is a word that springs to mind. The figures in the waltz were well known, but the slant (excuse the pun) was on sway and shape. We were treated to a hesitation change with a one bar embellishment and a wing that took flight into a type of cross swivel. The tango, again well used but with a delicate fusion that created an exciting amalgamation.
The saying goes, 'save the best till last': Neil Jones and Ekaterina Sokolova exquisitely showed samba rhythms with the transition from one to another; this was what it was all about. Where does the energy come from? What should a dancer focus on to develop the absolute best from this dance of so many rhythms and differing actions? As Julie Tomkins said earlier, "show it and describe it": all was made crystal clear. The chemistry between these two highly acclaimed dancers was captivating. You needed to be there, but if you were not then purchase the DVD and next time do not miss it.
Spring Congress passed quickly, with excitement about new work to take back to the school and inspiration throughout the day. The ISTD rocked! Well done to all involved in another fabulous congress. See you next year.
Simon Cruwys
---
ISTD Dinner Dance
Jill Bush reports on a spectacular evening of dance, held at the Marriott Grosvenor Square on Sunday 16th March 2014
As friends and colleagues greeted one another, the happy chatter and chinking of glasses helped to set the mood for this prestigious evening on the ISTD calendar.
Having been welcomed by Professor Christopher Bannerman, Chairman of the Society, a very enjoyable meal was served in the elegant surroundings of the Westminster Ballroom. Feeling pleasantly satisfied as coffee was served, everyone settled back to await the announcement of this year's winners of the Imperial awards.
"The happy chatter and chinking of glasses helped to set the mood for this prestigious evening on the ISTD calendar"
Traditionally two members of the Society are honoured in recognition of their hard work, commitment and achievements within the ISTD. On this occasion the worthy recipients were Heather Rees for the Theatre Award and Paul Streatfield for the Dancesport Award. The applause as each name was announced told more than words ever could. Both have worked tirelessly on the Society's behalf over many years. Heather is a fellow and examiner for modern theatre, tap dance, national dance and currently serves on the Tap Faculty Committee, whilst Paul is a fellow and examiner of the Disco/Freestyle/Rock 'n' Roll (DFR) Faculty and has held the position of DFR Vice Chairman for over 15 years.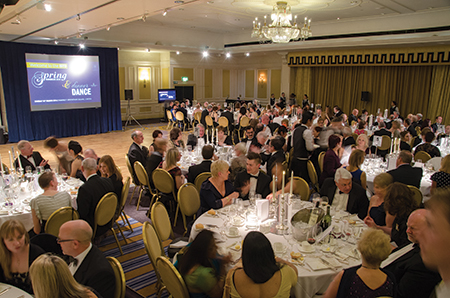 Professor Bannerman then took time to speak and show film footage about how the ISTD has been strengthening its links with the Beijing Dance Academy in China. He explained that a new venture is planned by the Society this coming August, when a number of our experienced lecturers and teachers will be travelling to Beijing to assist in running a special Summer School, for the members of this very large academy.
With Ross Mitchell, his band and singers in place, the entertainment for the evening started. Firstly, a theatre floorshow comprising many immaculately turned out and talented young dancers from the Jayne A Coleman Academy of Dance. Their two performances included ballet, lyrical and jazz/modern styles. Tap Attack then provided the next treat – an exhilarating tap demonstration that made the almost impossible look easy! Neil Jones and Ekaterina Sokolova were then welcomed onto the floor and gave a spellbinding show of four Latin American dances.
General dancing and socialising continued until the stroke of midnight when carriages were called, concluding another very successful annual dinner dance for the ISTD.
Thanks must be extended to all involved in the planning stages and to and to sponsors who donated prizes to the raffle in aid of the ISTD Benevolent Fund.
Jill Bush
---
All photos by Fredric Frennessen