Anton Du Beke

23 June 2011
Strictly Come Dancing star and ISTD Associate holder Anton Du Beke talks about his career and experiences on the BBC's hit show. He spoke with Tamsin Moore.
Since he started dancing at the age of 14, Anton Du Beke has collected a number of worldwide and British awards and achievements in Ballroom Dancing. Now, aged 44, he still tours with his dance partner of 14 years, Erin Boag. Anton and Erin have taken part in every series of the BBC's Strictly Come Dancing, with Anton's charming personality and Erin's consistent success with her partners making them popular with the fans of the show.
When did you begin dancing and how did it happen?
Well, you wouldn't exactly say it was a 'calling' I'm afraid. I was around 13 or 14 years of age and I just turned up at a dancing school in Sevenoaks in Kent where I lived and that was it really. I walked in, it was a room full of girls, and I thought this is for me! The rest is history.
When did you know dance would be your life?
Interestingly enough, quite soon after I'd started. It just appealed to me. I loved the form, the correctness, the discipline and the technique… and the girls! All my life I've been very sporty and competitive and Ballroom is great for that, both in terms of the training and the lifestyle. I felt very at home and comfortable with it.
You gained your ISTD Associate Ballroom in 2003. How has this helped you in your career?
I enjoyed doing my ISTD Associate Ballroom enormously. I find the whole thing fascinating and we had a lady go though our technique – Elizabeth Romain – she was there at the beginning when they wrote the whole thing with Alex Moore. For me that was great. I enjoy the mechanics and the technique of dance and the Associate was a great help. In the top competitions the subtlety of Ballroom dance is sometimes lost and technique can go by the by.
Erratum: please note the following sentence has been amended since this article was published in issue 456 of DANCE.
I was the first one to take the Level 1 EADA Coaching Scheme Examination, the Syllabus of which matches the ISTD Student Teacher Examination Syllabus. My registration card was number '01.' Erin and I were the first two candidates to do it. Lisa Bellinger and her husband did it as well.
You also trained in Ballet, Contemporary, Jazz and Modern Theatre dance. Has this helped you with your performance and teaching?
Yes tremendously. Training in different styles of dance gives you a greater understanding of how the body works. Knowledge is power and the more you know, the more doors open to you.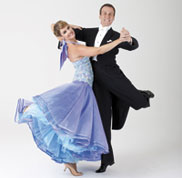 You and your professional partner Erin Boag have over 14 years experience dancing together. What is the secret of your dance partnership?
I don't know! Well, actually the secret is that you both have the same goals, and you don't get married to each other! Erin is married and I have a long-term girlfriend. You understand each other and what you are both trying to achieve.
You learn from the mistakes you've made – you can't teach experience. We had a volatile partnership when we were competing and we argued like anybody else. But, we've always got through it because we have got common goals and it's always about the dancing.
You and Erin have recently finished touring the UK with Puttin' on the Ritz. How did it go?
It has been a good tour, we've been very lucky. Every year we tour with a different show and every year we sell out. We want to do more – we're definitely not giving it up any time soon!
How do you keep healthy on tour?
You have got to look after yourself and listen to your body. There is no secret really. I know dancers who have had to retire because they have got a bad back or knee or whatever. But Erin and I are lucky to have good bodies and we look after ourselves as well. You need to listen to your body and if there is something a little bit awry with it, you take care of it – don't just leave it! There is no such thing as a good pain or a bad pain, there is just pain and it's a signal.
Erin is teaching but you are not currently teaching – do you think you will go back to it?
Perhaps, it depends how things pan out. The problem I have is having the time to commit to it. When I teach I like it to be regular. I know that people come for me and I don't want to be too busy and not turn up. I enjoyed it enormously.
In 2007 you released a book called Anton's Dance Class (published by Kyle Cathie, London). What was the main aim of the book?
Just to introduce people to dancing and give them a little feeling of what it is like to dance a few steps. I tried to give people an introduction with simple language, great pictures and nice descriptions to get them to understand the feeling of dance. I'd like to do another one, but again it's time.
What was your best dance moment?
We are in a lucky position, Erin and I, in that we've had lots of them. I did a number together with Bruce Forsyth on Strictly Come Dancing. We did 'Me and my Shadow' and that was a huge career high for me.
And what was your worst dance moment?
Getting knocked out of the first round of the UK Championships (pre-Erin) when I thought I was going to have a really good time. That was bad.
What can't you live without?
If you said to me, "you're never going to dance again," that would be pretty bad. There are certain things that your life is about and for me dance is my life and the thought of not dancing again would be pretty bad.
What can't you live with?
Selfish, inconsiderate people. People can be wonderful but also so disappointing.
The highest place in Strictly that you have achieved to date was coming third with ISTD Grand Council member Lesley Garrett CBE. What was it that gave Lesley the edge over the other celebrities you partnered on the show?
She loved it! I mean they all love it but she really loved doing it and she had a great enthusiasm for it.
You have made Ballroom queens of celebrities Lesley Garrett CBE, Esther Rantzen OBE, Patsy Palmer, Jan Ravens, Kate Garraway, Gillian Taylforth, Laila Rouass and now Ann Widdecombe on Strictly Come Dancing. From a teaching perspective, who was the most challenging and why?
They all have their challenges really. My own personal mantra to myself when I'm teaching people is to find a better way. If they don't get it, find another way because it's nothing to do with them it's to do with me, the teacher. I've got to find a better way of getting them to grasp what I'm teaching them to do. We didn't have the luxury of time on Strictly, so I couldn't say: "go away and work on it." I had to find another way whilst all the while making them feel good about what they were doing – that's very important too.
In the end, of course, John Sergeant bowed out of Strictly before he was voted off and some believed Ann Widdecombe should have stepped aside to allow the more gifted dancers to shine. What do you say to them?
I say: "shut your face!" It's not the world championships! Let's not all get a bit mental about this, they'll get voted off when they get voted off. There's never any reason for anybody to leave and also they are doing their best.
Why are you teetotal?
I don't like alcohol or its effect. Nothing good can come of it. I just don't drink, it's not something I have a desire to do.
Win Your Own Copy of Anton's Dance Class!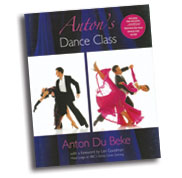 We have two copies of Anton's Dance Class to give away! In order to be in with a chance of winning a copy, just email or write in to tell us what you think is the best thing about the ISTD.
Closing date: 1st August 2011. Please email your entries to marketing@istd.org. Or, post your entries to: 'Anton Competition', DANCE magazine, ISTD HQ, 22/26 Paul Street, London EC2A 4QE. The winners will be picked at random from among the entries after the closing date.
Competition Terms and Conditions: Entry to all competitions is free. Only one entry per person per competition will be eligible. No cash alternatives are available and the prizes are non-transferable. Entry into the competition implies acceptance of these rules. We reserve the right to amend these rules at any time. The decision of the ISTD is final and no correspondence will be entered into.