Dance Dynamix have Got To Dance

5 April 2011
Lucinda Hennessy caught up with the ISTD-trained finalists of Sky 1's Got To Dance, plus some of the other groups who reached the semi-finals
Dance Dynamix is a group of 12 ISTD-trained commercial jazz dancers from Merseyside led by choreographer and teacher, Nazene Langfeld. Last year the group reached the semi-fnals of series one of Got To Dance on Sky 1 but this year they were back bigger and better than
ever before, making it down to the last eight groups to reach the fnals in series two, beating
the thousands of hopefuls who auditioned. In the end, Dance Dynamix were pipped to the
post by hip-hop duo Chris & Wes.
Nazene runs a school and college in Liverpool, Nazene Danielle's Dance Dynamix, where she trains students in the ISTD syllabus and regularly enters children for exams. Many of her students are currently training to be ISTD teachers themselves. Last year she was lucky enough to have all her six pupils who entered the Manchester heat of the Janet Cram Awards get through to the Finals in London, and one pupil, Dominic Cullen, won the Boys' Cup a few years ago.
The members of Dance Dynamix range from 17 to 29 years and is made up of Nazene
Langfeld, Ellen Crawford, Lauren James, Melanie Shannon, Kimberly Carr, Megan
Fitzpatrick, Natalie Wilcox, Holli Jo Bradley, Daniel Lee, Dominic Cullen, Kenny Fletcher
and David Heath.
We caught up with Nazene a few days after the live fnals and we asked her to describe
her experience preparing for the auditions:
"The audition process for Got To Dance compared to other similar programmes we have auditioned for was very organised and so much fun! We were given a time slot and the first round was in a dance studio for the producers. We actually took over the audition as I turned up with over 10 acts from my dance school, with dancers ranging from 4 to 29 years in age! We then had to eagerly await phone calls to find out if we had been successful. I had four acts who made it through to the televised auditions where we had to travel to Glasgow to dance in front of the three celebrity judges.
In terms of Dance Dynamix, we were unsure how the judges would react to us as
we had been on the show the year before. Our main goal was to go back and prove to Ashley
Banjo we had taken on board his comments from last year (as he gave us a red star at the
semi-fnals) and also to prove to the nation that if you really believe in yourself you
should never give up on your dream. We were thrilled to be given three gold stars by
the judges which secured us a place on the shortlist. My other three acts also received two gold stars again giving them a place on the shortlist.
About a month later we received a phone call from the production team telling us that
there were eight acts the judges could not decide between – four genres of dance and
two acts in each genre – so we went head to head with another commercial dance act. The
pressure at the call backs was intense! The fact it was 50/50 between us and them just
made us want it even more as we were now so close to being on the actual show again – we
went into the audition room and danced for our lives! Adam Garcia even commented:
'Now that's what you call competing!'"
When asked how Nazene selected her members of Dance Dynamix, she replied:
The majority of the dancers in Dance Dynamix I have taught since they were 7 and
now at 17 they have worked their way up to be senior dancers. Some are now ex-students
who had also worked their way through he ranks of the dance school. As a school we are regularly asked to dance at events and I always use my own dancers when I choreograph for clubland tours or music videos so we have a self-made company of dancers. As I have trained the dancers in Dance Dynamix we all have a similar style and energy and the dancers know exactly
how I like things done and I think that is what makes Dance Dynamix such a great team. So
when the audition came along it was actually my mum who suggested we all went along!"
Nazene was responsible for all the choreography performed at Got To Dance.She would suggest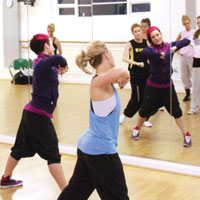 which music she wanted to use, which then has to be cleared by the record company and the producers from Sky for use on the show: "If they don't like it they ask you to submit something else. So you may not get your frst choice of music but it is your choice eventually." Nazene was amazed by the costume team on the programme: "They ask what it is you have in
mind for your routine, they then come up with a sketch and between you and them you find something you are all happy with. At the end of the day it is the producers who have the final say on everything though."
We enquired if there were any mentors involved behind-the-scenes to offer guidance throughout the audition process. "You do have a team of mentors who regularly come down to check your progress. This is mainly to help you work out your routine so it reads well on camera as choreographing for theatre and TV are completely different. This was one of the hardest things to adapt to. They are also the middleman for the directors so they know what to expect when we turn up for camera rehearsals at the studio."
Nazene's home town of Liverpool was behind her all the way: "The support back home was amazing! I would literally be doing my shopping and people would stop me in the aisles to congratulate me or pass their best wishes on for the fnal. We did so much promotion in the city too – dancing in the city centre and travelling round the local schools. It was great to get out there and meet so many people and to know how much everyone was rooting for us felt very
overwhelming."
Dance Dynamix were thrilled to be told they had won a place in the live fnals at London's Olympia. "Performing at such an amazing venue is something that any dancer dreams of. I just felt so lucky to be a part of it all. However dancing to entertain people and dancing in a competition with a potential life changing prize of £250,000 is very different – the pressure was definitely on! I kept telling myself that it is only 90 seconds and to just go out and enjoy it. The atmosphere in the Olympia was electric. It is crazy that you dedicate so much time to that 90 seconds and it is over in a flash, but you just have to go out there and leave no regrets; if you give
it 100% then at least you know you did your best. It is an amazing thing to know we were in the top eight acts in such a high profile competition and I'm very proud of what Dance Dynamix achieved!"
So, what's next for the group? "After having such positive exposure from the show, hopefully the only way is up for Dance Dynamix! We have had some nice offers come our way already and are currently in the middle of fnalising details. I think we just want to keep moving forward in the
same direction. Just being us but on a much bigger scale now people know who we are
and what we are about. It would be amazing to dance with some high profle artists, and
I personally would like to push my career as a choreographer. We are so lucky that
Got To Dance has given us that platform to hopefully really follow our dreams."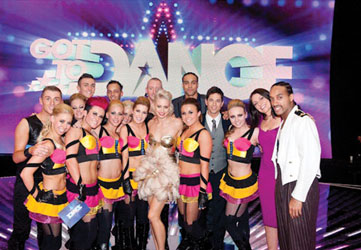 We were also excited to learn that three other ISTD-trained groups reached the semi-fnals of Got To Dance – Guyz in Sync, Tap Attack and Bolly-Flex. You can read about each of these
groups below.

Guyz in Sync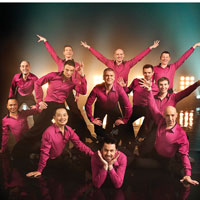 Guyz in Sync are the UK's only all-male Latin and Ballroom formation dance team consisting of 12 dancers aged 27 to 50 from various professional backgrounds. The dancers frst came together to compete the Lesbian Gay Bisexual and Transgender (LGBT) sports event World Outgames 2009 in Copenhagen. In their frst competition they took the Gold medal. In August 2010 they brought home the Silver from the Gay Games Cologne, retaining their title as the world's best all-male Latin and Ballroom formation team. Got to Dance was their frst major step towards bringing the exciting world of same-sex Latin and Ballroom dancing to a broader public.
Hadass Armon, co-director of Studio LaDanza, London and coach of Guyz in Sync, said: "I have worked with same-sex dancers for many years. This is an amazing opportunity to bring the beauty and power of same-sex dancing to a wider audience. I am so proud that the team has come this far." Studio LaDanza specialises in Ballroom and Latin dance for all ages and levels of
ability. The school is affliated with the ISTD and pupils may train for ISTD examinations.
The studio has been and continues to be instrumental to the development of same-sex Ballroom and Latin dancing.
Tap Attack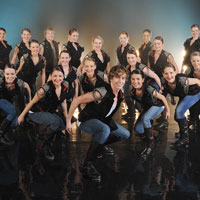 Tap Attack are a 24-strong Tap group from across the UK who have represented England at three World Tap Championships. The dancers range from 13 to 21 years of age and the group's ambition is to blast away the old fashioned stereotype of top hats and canes so that the public can appreciate their modern style of Tap.
Tap Attack was founded in 2006 by ISTD Fellow and Guinness World Record breaking Tap dancer and choreographer, Jo Scanlan, and Tap dancer Dean Magri, with the purpose of offering UK based workshops, masterclasses and bespoke workshops for schools and colleges. Travelling the length and breadth of the country each weekend it became apparent that there was a huge number young talented tappers who were interested in regular, specialist training. This
coupled together with an invitation from the International Dance Organisation to enter an England Tap Team at the 2008 Tap World Championships, resulted in the birth of the Tap Attack dance company originally comprising of 14 members. As a non-funded team, Tap Attack raise the money needed to participate in competitions by dancing in exhibitions to pay the costs of travelling. Despite the members of the group coming from as far as Scotland, Tap Attack train
together in Reading and Swindon.
After nine months of dedicated training, the now 24-strong group, currently ranking second in the world, wanted to show the country just what Tap in 2011 is all about by entering into this year's Got To Dance.
Of reaching the semi-fnals, Jo and her co-choreographer, James Doubtfre said: "Nearly 5,000 acts entered this year's competition, so to be selected as one of the 28 fnal acts covering many dance genres is a huge honour and testament to the company's quality, hard work and commitment."
Tap Attack, combining with the ISTD and guest artists, will be teaching at Rhythm Routes on Sunday 22nd May – see page 140 for more information on this exciting collaboration.
Bolly-Flex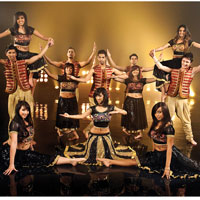 Bolly-Flex, determined to show the world the beauty of Bollywood, are a group of 12 dancers from London ranging from ages 19 to 27. Their ambition is for Bolly-Flex to reach international status so they can tour all over the world. Taking their infuences from a range of dance icons including Akram Khan, Michael Flatley and Michael Jackson, their motto is 'inspire change, aspire for greatness.'
The group regularly train together in their varied individual dance styles, aiming to perfect their blend of Contemporary, Street, Salsa and Traditional Kathak, all within a Bollywood narrative. Bolly-Flex's dance captain, Leena Patel has been dancing ever since she could walk and started to train in Bollywood when she met the group's choreographer, Naz Choudhury in London in
2005. Having only been together one year, the members of Bolly-Flex are yet to add dance
trophies to their mantelpiece, but they hope that their appearance in the semi-fnals on
Got To Dance has helped raise the profle of Bollywood dance.
Leena has been training in Bharatanatyam under ISTD South Asian Faculty Committee member and Examiner, Chitraleka Bolar since the age of eight, also training in Kathak for eight years to complement her dance skills. Leena joined Flex FX Productions in 2006 and led Dhamaka 2007
at the Royal Albert Hall. She has since been choreographing alongside Naz for various projects, such as the Essence Tour and the Commonwealth Games Handover Ceremony 2010. Leena is now the Artistic Director of Flex FX Productions and hopes to take Bolly-Flex on tour. Founder of Flex FX, Naz wishes to inspire the nation with a British Bollywood dance spectacular portraying Bollywood dance like is has never been seen before.
Leena also took part in Sony Television's Boogie Woogie dance competition where she won the frst UK national championships. You can read about another Boogie Woogie success story on the South Asian Dance Faculty pages in the current issue of DANCE magazine.