Award-winning documentary First Position in cinemas this April + competition

18 March 2013
First Position follows young ballet dancers as they compete for elite dance scholarships & the chance to change their lives.
Film Review – First Position
Released in the UK Fri 12 April, the highly-anticipated documentary First Position follows a group of young dancers in the final round of one of the most prestigious children's ballet competitions in the world: the Youth America Grand Prix.
With over 5,000 dancers (aged between 9 and 19 years-old) competing in the hope of winning a scholarship with one of the world's leading dance companies, competition is high and under-performing is not an option. Director Bess Kargman interviews seven ambitious competitors, their families and teachers, and we learn of the many sacrifices made for the sake of Ballet. As they prepare for the chance to enter the world of professional dancing, struggling through bloodied feet, near exhaustion and debilitating injuries, Kargman also offers a fascinating glimpse into the lives of these teenagers as they navigate the drama of adolescence.
We meet precocious 11 year-old Aran Bell, who makes a two-hour trip from Naples to Rome every day to study; Rebecca Houseknecht, a 17-year-old Maryland Youth Ballet student gave up cheerleading for ballet; Joan Sebastian Zamora, a shy 16-year old boy hoping to get a scholarship to the Royal Ballet School; Miko and Jules Fogarty, a 10 year-old and 12 year-old brother and sister act who train at the Diablo Ballet apprentice program in California; and Michaela DePrince, a 14-year-old at Rock School who was adopted from war-torn Sierra Leone.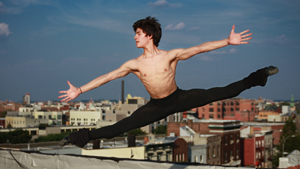 Wary of the media's perception of ballet and its desire to highlight anorexia, fights and disputes, Kargman had to use her credentials as an ex-dancer herself to gain the trust of the competition's organisers. Showcasing the talent from a wide selection of individuals, Kargman subverts the perceived stereotypes of who or what a ballet dancer should look like, painting a thrilling and moving portrait of the mostgifted ballet stars of tomorrow.
First Position (cert tbc) Dir: Bess Kargman 2011/USA/90mins.
Review by Rod Rhule
---
Win tickets to see First Position!
Win a pair of tickets to see the documentary First Position at a Curzon Cinema, plus a poster of the film. For your chance to win, just send your answer to the folowing question to marketing@istd.org by Friday 19th April:
In which prestigious children's Ballet competition are the young dancers taking part?