Win tickets to see Le Patin Libre!

18 December 2012
Looking for a different type of performance this winter? Win tickets to see some contemporary ice skating with Le Patin Libre!
To win a pair of tickets, just email marketing@istd.org by 4th January and tell us what Le Patin Libre means in English. Please also include which London performance date you would prefer.
---
Le Patin Libre - Contemporary ice-skating collective
Alexandra Palace Ice Rink
January 9th at 8:00pm and January 20th at 5:30pm
More performance information
Brixton Ice Rink
January 12th at 8:30pm
More performance information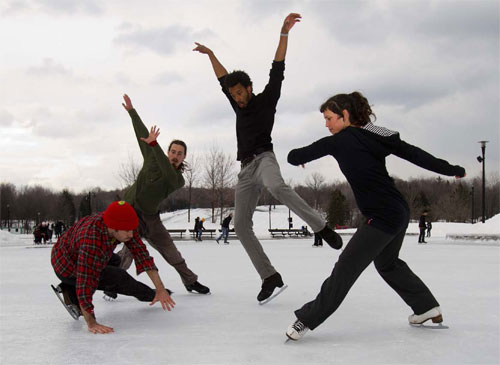 Le Patin Libre is a French-Canadian contemporary ice-skating collective.This emerging form of dance uses ice, skates and glide as medias. The troop was founded on the frozen ponds of Montreal in 2005. It was created by irreverent yet international level traditional figure skaters inspired by the dynamism of Montreal's contemporary dance and circus scene.
From the start, their goal was to transform their athletic skills into a mean of legitimate cultural expression. Far from the sequins of the traditional "On Ice" entertainment, the creations of Le Patin Libre are significant works of art exploring the unsuspected and amazing choreographic and theatrical potential of glide.
Watch a documentary about their first presence in London http://vimeo.com/53345946
The Rule of 3
'The Rule of 3' is a heartfelt ode to the beauty of the strange, to the grace of the wounded and the victory of the extraordinary over the banal. - Alexandre Hamel, co-auhor and performer
To the artists of Le Patin Libre, 'The Rule of 3' is the final emergence of skating as a form of contemporary dance. The piece is the achievement of years of research and questioning. The question was simple: "What is skating?" What's left when you shed the medals, the sequins and the stereotypes?
During long creation residencies on the frozen ponds of Montreal and in a secluded provincial ice rink in France, the skating-artists un-learnt everything that 15 years of traditional figure skating had taught them. Then, they explored the magic of pure gliding and the vertiginous static movements it allows. The new style that emerged still uses the virtuosity of the three world-class performers but clearly redefines it as a medium capable of the most touching symbolism..
'The Rule of 3' – 75 minutes – performed in local ice rink pop-up theatres.