Sequence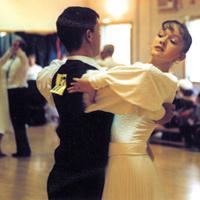 The Sequence Faculty was formed in 1947 as the Victorian and Sequence Branch. Its aim was to encourage the dances which were popular prior to the First World War and which are now generally referred to as Old Time dances.
At this time there was a great revival in this form of dancing and the ISTD Council invited three Fellows of the Ballroom Branch who specialised in Old Time Dancing to form a committee: Cecil Ruault, Netta Brooke and Margaret Cadman. Miss Ruault was appointed Chairman, a position she held until 1980. Today Sequence dancing includes not only the authentic Old Time style, but many dances and sequences based upon Ballroom and Latin American techniques. It is probably the most popular form of social dance today, as Sequence Clubs are to be found in nearly every village and town. Two of the great attractions of this form of dance as a pastime are the friendly atmosphere which prevails and its appeal to all age groups. For those who wish to improve their standard the examination system and Medallist Competitions provide the necessary goals for which to aim.
Election for the Sequence Dance committee opens this year. If you would like to be nominated or know of someone who should be nominated, please contact the ISTD Executive Assistant, Dawn James on pa@istd.org for further information.
---
Scripts
There are a few discrepancies or amendments to the scripts of the following dances: Richmond Gavotte, Engagement Waltz and Marquesa Rumba. Please see our newsletter for details, available from Katherine Costain 07551 159470.
---
If organisers know of dates they would like to appear on the pages of DANCE, please contact Nick Miles on 07733 262387 by Monday 19th October 2015 to ensure that your dates appear in the next issue.
---
Faculty Newsletter
To obtain more information and to keep up-to-date with Sequence matters, please see the sequence Faculty Newsletter. Copies are available from Katherine Costain on 07551 159470 or email Sequence.Club@istd.org.
---
Sequence 3-Dance Competition Dances for this year and next
---
The ISTD celebrated its 110th anniversary in 2014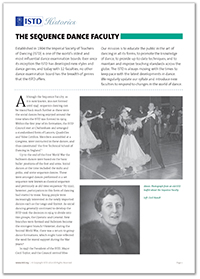 If you would like to find out more about ISTD history you can order your copy of 100 Years of Dance from our online shop.
News
09 Sep

Dance Proms returns Sunday 15 November on the iconic stage of the Royal Albert H...

12 Aug

Results and photographs from this year's Bill Irvine and Pierre Trophy competiti...
Events
Mon

Tue

Wed

Thu

Fri

Sat

Sun

1
2
3
4
5
6
7
8
9
10
11
12
13
14
15
16
17
18
19
20
21
22
23
24
25
26
27
28
29
30
31

August 2015
Saturday 31 October

Sunday 15 November