Miss Paddy Hurlings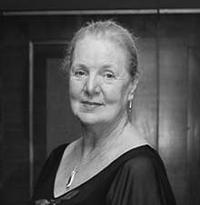 Artistic Director
A Fellow of the Imperial Society, Paddy received her formal training at Bush Davies School, Romford. On completing her stage career she founded the Victoria School of Dance in Southsea, where she is co-principal.
For ten years Paddy was a member of staff at Elmhurst Ballet School and for an extended period taught within the Hampshire Education system. She has also been a regular tutor on the summer school circuit both in the U.K. and Western Europe.
An established international examiner and lecturer for the Society, Paddy now holds a number of responsible positions which include the chairmanship of the Theatre Dance Faculties Board together with the Tap Dance Faculty committee and is a member of Council and the International Committee.
With an ongoing interest in both the performance and teaching aspects of dance Paddy is an adjudicator for the British Federation of Dance Festivals and All England Dance and works with the ISTD. South Coast Committee to provide lectures and events in the region.
In 2006 she received the Imperial Award for outstanding services to the ISTD.