Mr Bruce D. Ryder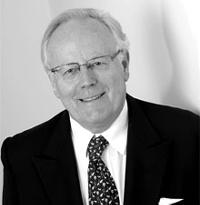 Bruce began his career in the Motor Industry where he worked for 24 years for two manufacturers Volkswagenwerk A.G. and Daimler-Benz A.G. in Western Germany.
He worked in Germany on the Production Lines in Wolfsburg, Hanover, Kassel and on the retail side for VW and Porsche Distributors in Stuttgart and Hamburg.
At Volkswagen(GB) Ltd. he graduated from Management Trainee to various management roles, through UK Sales Management responsible for sales of 41,000 cars per annum to Dealer Development establishing five year Representation Plan (Franchising).
In 1972 Bruce joined Mercedes-Benz(UK) Ltd. progressing from UK General Manager – Marketing with responsibility for Car and Truck Marketing (9 years), to Head of Eastern Region responsible for sales (7,200 cars and 3,000 Commercial Vehicles per annum) and After Sales Service.
For the next nine years (1984 – 1992), Bruce worked in the Food Industry as Managing Director for Lord Rayleigh's Dairies Ltd. based in Essex, responsible for the development and profitability of a Dairy Products, marketing and distribution business, supplying 'Fresh' Milk and Cream Products to major Supermarkets, Regional Health Authorities (Hospitals), Catering Outlets and traditional 'Doorstep Delivery' to households.
In addition he was appointed in 1987 Executive Chairman of Bridge Farm Dairies Ltd in Suffolk with responsibility for a yoghurt, cottage cheese and soured cream manufacturing and distribution business.
During this period he was also a Non-Executive Director of Strutt & Parker (Farms) Limited, an East Anglian farming enterprise with over 12.000 acres (arable, Milk producer, sheep on 9,000 acres in Norfolk).
The next seven years (1993 – 2000), Bruce worked in the 'Not for Profit' sector for two Educational Charities as Interim and Chief Executive:
The Bell Educational Trust in Cambridge, The Bell Language Schools, a group of ten schools in the UK and Overseas providing and promoting education, teaching English as a foreign language - with over 13,000 Students, Adult and Young Learners attending Bell Courses every year from all over the World.
International House – London. A World Wide Organisation with 110 Affiliated Schools teaching languages, mainly English and Training Teachers. Since the 1960s International House has been a major player in teacher training.
In recent years he has been operating as a Management Consultant and Senior Interim Manager advising and helping small to medium sized businesses:
Food manufacturing and distribution (Glaciery and patisserie products & 'fresh' poultry products)
sales and distribution of printed business forms and stationery to UK 'blue chip' Accounts
Retail Motor Trade and Engine Component after-market
involving either restructuring & 'turn around', business development, acquisition and disposal, management 'Buy Out'/merger.
Council: Council Members
Finance, Audit & General Purpose Committee: Committee members
Nomination & Remuneration Committee: Committee members