Peggy Spencer MBE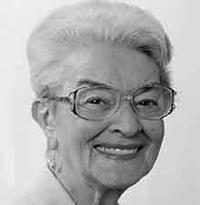 Peggy Spencer was born Margaret Ann Hull on 24th September 1920 to an Irish mother (Maggie) and a Cockney father (Jim). Maggie had come to England from Ireland to take up service as a cook, and Jim was a master carpenter.

Peggy Spencer was born and educated in Bromley, Kent, where she studied the piano and developed an interest in politics. Whilst her father hoped she'd take up a career in playing the piano, she was more interested in becoming a politician.

However, World War II cut her studies short and she married Jack Spencer in 1940, and had two children, Helena and Michael. Unfortunately, the marriage was not successful and they divorced in 1947.

Peggy Spencer formed a close relationship with her brother-in-law Frank, whom she eventually married in the late 1960's. They formed one of the most successful dancing partnerships. Both believed in 'Dancing For All', and practised this theory through their teaching and formation team training (Peggy's main love) in their ballroom in Penge, the Royston Ballroom.

She appeared with her teams in Come Dancing for 40 years, and travelled the world teaching, adjudicating, and promoting British Ballroom and Latin Dancing.

She received the MBE, 8 Carl Alan Awards and many other accolades for her work. She believes that dancing is a social asset and a joy for everyone, which promotes health and fitness, and is a very rewarding hobby, allowing people to mix together freely. She lives in retirement in Norfolk, and still teaches social dance as a hobby.

Peggy Spencer became President of the ISTD in 2004.