Sue Passmore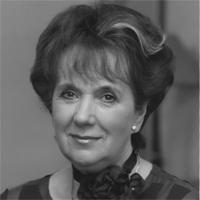 Sue Passmore has had a remarkable and extensive career in professional theatre and vocational training and has supported the work of the ISTD serving as a lecturer for Congresses, a member of Council, and on sub Committee panels since 1980.
Formally trained at Italia Conti she had a successful career in musical theatre, film and television before taking a very different pathway, becoming Artistic Director of Bush Davies Ballet Schools where she spent seventeen years working beside Joyce Percy, Daphne Peterson and Murielle Ashcroft whose inspiration, guidance and quality of teaching formed the benchmark that she has followed throughout her career in vocational education.
She was a director of the Adeline Genee Theatre from 1972 -1988 and produced all the dance productions, plays and musicals on behalf of the school and professionally. In 1988 Sue moved to Bird College to join a dedicated team of staff headed by the dynamic, forward thinking Doreen Bird and during this productive time so many new initiatives and artistic opportunities emerged and the college flourished. Bird College was one of the first vocational courses in the sector to introduce a degree in Theatre Performance which was validated by the University of Greenwich.
In 1995 Sue was appointed Principal/CEO of Bird College and retired in 2005 shortly after creating a Foundation Degree in Acting at the College.
During the last seven years she has worked for Trinity College London as an Examiner and CDET as a Consultant/Assessor.
In 2008 she created and delivered a Foundation Degree in Performing Arts for the University of Gloucestershire which was developed into an honours degree in 2010.
Council: Vice Chairman
Governance & Human Resources Committee: Committee members