Promote your business with Dance magazine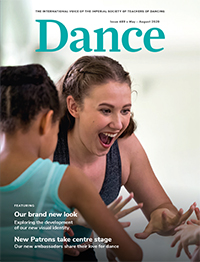 Connect with our members through display advertising in our membership publication with an estimated readership of 20,000 worldwide.
Find out more about Dance magazine here.
We offer the following advertising slots:
full-page
half-page
special position
Rates vary.
To book your display advert in Dance magazine or for more information please email marketing@istd.org
Classified Advertising
We want to help our members and dance business owners find suitable teachers.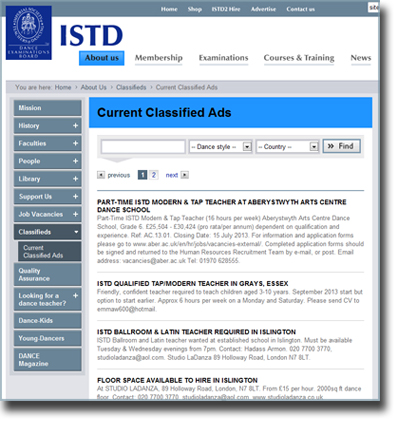 The classified advertising section on our website allows ISTD members and non-members to search for teaching vacancies, sell/buy equipment or advertise a dance school for sale. View our current classified advert listings.
How does it work?
Taking out a classified advert is simple, email us marketing@istd.org with your desired wording and contact details, and a member of the team will get back to you.
Online listing rate = £30.00 for ISTD members | £40.00 for non-ISTD members
Rates are inclusive of VAT. Max word count 100 words.
Important notice: As of February 2020 we will no longer host classified advertising in DANCE magazine or on our social media sites.
Private Box Numbers: If you do not wish to publish your contact details you can request a private box number. This means that applicants will contact the ISTD marketing department first, then we will forward any inquiries to you. This is available on request free of charge.
Responding to Box Numbers in Classified Ads
If you are responding to an advert with a box number, please email marketing@istd.org, clearly stating in the subject line which box number it is intended for. We will then forward it on to the advertiser for you who will respond to you directly. Please note that a response from the advertiser is not guaranteed.
Find out more
If you would like to find out more about our print or online advertising opportunities, please contact:
Marketing & Communications Department
Imperial Society of Teachers of Dancing
22/26 Paul Street
London EC2A 4QE
Tel: +44 (0)20 7377 1577 (ext 822)
Email: marketing@istd.org
A 10% discount is available for ISTD members and ISTD ADCs on all advertisements - please state your membership number when booking. NOT applicable in conjunction with any other discount.
DANCE will make every effort to avoid mistakes of any kind but regretfully cannot accept liability for any errors occurring in advertisements.
Applicants for advertised positions should be aware that the ISTD takes no responsibility for the terms of any employment contract issued by a school, including any overseas, for which they should take legal advice as necessary.
The ISTD cannot mediate in any employment dispute.
We reserve the right to refuse to place ads, based on content, visual style, and space restrictions.