Cecchetti Classical Ballet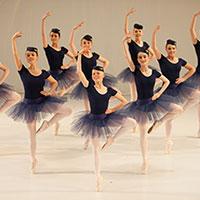 Recreational Vocational Professional
"Cecchetti work has given me strength, discipline, and coordination. It wasn't until I got into the Company that I realised how lucky I was to have had that training." - Darcey Bussell DBE
The Cecchetti method of Classical Ballet is an outstanding system of training for all, from the small child through to the vocational student, professional dancer, and future teacher.
Founded by the inspirational Italian dancer and teacher Enrico Cecchetti, the method has a rich heritage and is part of an international network of Cecchetti organisations, including Cecchetti International Classical Ballet.
As a faculty of the ISTD, Cecchetti Classical Ballet offers examinations and qualifications for children, students and teachers that are nationally and internationally recognised for their excellence. Enjoyment is of prime importance for a young child beginning to dance and the Class Examinations and Performance Awards provide ideal opportunities for those attending classes for recreational purposes on a once a week basis.

For children wishing to study in greater depth, there are the more technically demanding Grade Examinations. In all the children's work, a steady build-up and safe practice are of great importance. The Major examinations for older students and those at vocational schools are soundly based on Cecchetti principles and provide strength and co-ordination, together with a quality of movement which is second to none.
The ISTD also offers a wide range of excellent professional teaching qualifications and choice of learning paths for those who would like to teach Cecchetti Classical Ballet. Find out more about what this unique style of Classical Ballet has to offer.
Download a history of the Cecchetti Ballet Faculty. If you would like to find out more about ISTD history you can order your copy of 100 Years of Dance from our online shop.
Revised Advanced 2
Please note a correction to the article published in the previous issue of DANCE. Revisions to the Advanced 2 Syllabus allowing students and their teachers to opt to study either Option A or Option B exercises, can be examined now (not as previously stated from September 2020). It will still be possible to enter the existing Advanced 2 Syllabus until the end of April 2020 for those concluding courses of study.

New Resources
Please also note that the Syllabus Technical Specifications and the Music Manuscript are now available to purchase from the ISTD shop and the CD will be available shortly. The filming of the work for the DVD has been completed, but with such a large Syllabus it is a major piece of work to edit and complete the DVD – teachers will be advised when it is available in the New Year. If you have any concerns regarding this matter please contact Catherine Hutchon, Cecchetti Faculty Chair: cecchetti@istd.org.

Changes to Licentiate and Fellowship Entry and Requirements (in effect since January 2016).

Bursary Awards
The Bursary Awards competitors are drawn from the winners of the Cecchetti Classical Ballet Awards upon recommendation from the Cecchetti Classical Ballet faculty.

Download the Cecchetti Classical Ballet syllabus from the theatre dance syllabus page.


Download the syllabi for the Diploma in Dance Instruction and Diploma in Dance Education on the DDI and DDE documents page.
News
10 Jul

Performing Arts guidance published by Downing Street.

01 Jul

Faculty Committee Elections are currently taking place for Cecchetti Classical B...
Events
Mon

Tue

Wed

Thu

Fri

Sat

Sun

1
2
3
4
5
6
7
8
9
10
11
12
13
14
15
16

17

18

19

20

21

22

23

24

25

26

27

28

29

30

31

August 2020