Cecchetti Classical Ballet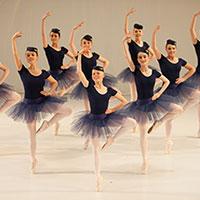 Recreational Vocational Professional
"The Cecchetti work has given me strength, discipline, and co-ordination. It wasn't until I got into the Company that I realised how lucky I was to have had that training." Darcey Bussell
The Cecchetti method of Classical Ballet is an outstanding system of training for all, from the small child through to the vocational student, professional dancer, and future teacher.
Founded by the inspirational Italian dancer and teacher Enrico Cecchetti, the method has a rich heritage and is part of an international network of Cecchetti organisations, including Cecchetti International Classical Ballet.
As a faculty of the ISTD, Cecchetti Classical Ballet offers examinations and qualifications for children, students and teachers that are nationally and internationally recognised for their excellence. Enjoyment is of prime importance for a young child beginning to dance and the Class Examinations and Performance Awards provide ideal opportunities for those attending classes for recreational purposes on a once a week basis.

For children wishing to study in greater depth, there are the more technically demanding Grade Examinations. In all the children's work a steady build up and safe practice are of great importance. The Major examinations for older students and those at vocational schools are soundly based on Cecchetti principles and provide strength and co-ordination, together with a quality of movement which is second to none.
The ISTD also offers a wide range of excellent professional teaching qualifications and choice of learning paths for those who would like to teach Cecchetti Classical Ballet. Find out more about what this unique style of Classical Ballet has to offer.
Download a history of the Cecchetti Ballet Faculty. If you would like to find out more about ISTD history you can order your copy of 100 Years of Dance from our online shop.
News
11 Nov

Results from the annual Awards, which took place on Sunday 3rd November at Westm...

05 Oct

Tribute by Lisa Maria Sawamura
Events
Mon

Tue

Wed

Thu

Fri

Sat

Sun

1

2

3

4

5

6

7

8

9

10

11

12

13

14

15

16

17

18

19

20

21

22

23

24

25

26

27

28

29

30

31

December 2019
Tuesday 03 December

Sunday 16 February