Classical Indian Dance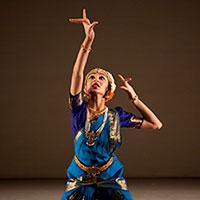 Following a research project and proposal from Akademi, South Asian Dance in the UK, a new ISTD Faculty was set up in 1999 to examine in Bharatanatyam and Kathak, the two classical South Asian dance genres most frequently taught in the UK. Examining started in 2001 in various regions of the UK, with expansion into Europe, Canada, and the US, along with enquiries being received from other parts of the world, including Australasia, India, and Pakistan.
Bharatanatyam is the name given in the early twentieth century to the dances known as Dasi-attam and Sadir-attam, which evolved over centuries in the temples and royal courts of Southern India. It highlights the beauty of strong lines leading out from the dancer's body and is embellished with intricately expressive hand gestures and elaborate storytelling through exquisite facial expressions.
Kathak originated as a storytelling art form in northern India. It developed in Hindu temples and later in Mughal courts. It is characterised by fluid body movements, complex patterns of footwork, fast turns and sudden stillness.
A precise interaction with classical Indian music from South and North India respectively characterises both these dance genres.
Download the history of the Classical Indian Dance Faculty. If you would like to find out more about ISTD history you can order your copy of 100 Years of Dance from our online shop.
January 2019 - Syllabus Announcement

The Classical Indian Dance Faculty is excited to announce the release of the revised Bharatanatyam and Kathak syllabi for Grades 1–6 and Vocational Grades.
Learn more

Classical Indian Bharatanatyam and Kathak examinations

All Bharatanatyam and Kathak Grade examinations in Dance and Vocational Graded Examinations in Dance have revised syllabus specifications which came into effect on 1st May 2019.
In order to ensure the revised marking for all these examinations is clear and detailed on report sheets, we have created revised versions of each of these qualifications in QUEST. Teachers should select the revised version when applying for sessions and entering candidates on timetables from now on. Every examination will appear as 'Revised', for example, 'Grade 1 Revised', which should be selected. The previous versions will appear as 'Withdrawn'.

If assistance is needed, please contact the UK Examinations or International Examinations departments who are ready to help.
News
10 Jul

Performing Arts guidance published by Downing Street.

24 Jun

We are working in partnership with CDMT, Sports and Recreation Alliance and One ...
Events
Mon

Tue

Wed

Thu

Fri

Sat

Sun

1
2
3
4
5
6
7
8
9
10
11
12
13
14
15
16
17
18
19
20
21
22
23
24
25
26
27
28
29
30
31

July 2020