Classical Indian Dance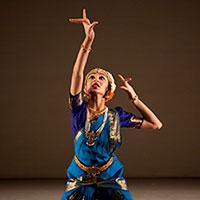 Following a research project and proposal from Akademi, South Asian Dance in the UK, a new ISTD Faculty was set up in 1999 to examine in Bharatanatyam and Kathak, the two classical South Asian dance genres most frequently taught in the UK. Examining started in 2001 in various regions of the UK, with expansion into Europe, Canada, and the US, along with enquiries being received from other parts of the world, including Australasia, India, and Pakistan.
Bharatanatyam is the name given in the early twentieth century to the dances known as Dasi-attam and Sadir-attam, which evolved over centuries in the temples and royal courts of Southern India. It highlights the beauty of strong lines leading out from the dancer's body and is embellished with intricately expressive hand gestures and elaborate storytelling through exquisite facial expressions.
Kathak originated as a storytelling art form in northern India. It developed in Hindu temples and later in Mughal courts. It is characterised by fluid body movements, complex patterns of footwork, fast turns and sudden stillness.
A precise interaction with classical Indian music from South and North India respectively characterises both these dance genres.
Download a history of the Classical Indian Dance Faculty. If you would like to find out more about ISTD history you can order your copy of 100 Years of Dance from our online shop.
CALL OUT FOR PERFORMERS...
The ISTD Classical Indian Faculty invites all it's member teachers to apply to take part in Misrana 2019, a curated platform of performance for teachers and their students taking place on October 6th 2019 in London. This is an exclusive opportunity for ISTD members to showcase their best talent. APPLY NOW

January 2019 - Syllabus Announcement
The Classical Indian Dance Faculty is excited to announce the release of the revised Bharatanatyam and Kathak syllabi for Grades 1–6 and Vocational Grades. Find out more

Show how much you value ISTD teachers and download a selection of jpeg images to share on social media or post to your website.
News
21 Mar

Candoco Dance company and ASOS have teamed up to provide young dancers with a tw...

23 Jan

The Classical Indian Dance Faculty is excited to announce the release of the rev...
Events
Mon

Tue

Wed

Thu

Fri

Sat

Sun

1
2
3
4
5
6
7
8
9
10
11
12
13
14
15
16
17
18
19
20
21
22
23
24
25
26
27
28

February 2019
Monday 08 April

Monday 05 August