Funding and Volunteer Recruitment for Inclusive Dance Practice
Including disabled children and young people in dance projects is no easy task and having to meet additional needs can be very challenging and require not just extra care and consideration, but funds, skills and resources.
Top tips for fundraising

Volunteer recruitment and management

Top tips for fundraising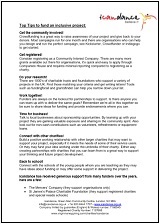 There's more to fundraising than raising funds as Juliet Diener shows in her Top tips to fund an inclusive project.
Juliet, who has also participated in the ISTD's research project, is a Dance Movement Psychotherapist and the Principal at icandance, a UK based dance organisation specialising in using dance and movement to nurture learning and development in children and young people with disabilities.
Download her guide to funding an inclusive project and learn about fundraising basics, funding sources, fund management or also how to gain further funding support.
Volunteer recruitment and management
Finding volunteers
To find volunteers for inclusive dance practice, either to provide support for ongoing work or for one-off projects, a good first port of call may be a local authority. Most local authorities have local volunteer centres, provide further information and also promote volunteering opportunities on their websites. To find a local council in a given area, the UK Government website provides a post code / local council finder.
There are also national programmes as well as organisations that are dedicated to encouraging volunteering for example via award programmes.
There is The Duke of Edinburgh's Award which amongst others has a programme that recognises volunteers' achievements. For organisations there is the opportunity to become an Approved Activity Provider, which is a scheme that supports organisations in attracting and training volunteers.
Another way for organisations to offer opportunities to young people who are taking their Arts Award is to become an Arts Award Supporter.
Recruiting, training and managing
Managing volunteers is a process that encompasses many facets, from attracting and recruiting to training, supporting and developing the volunteers.
The National Council for Voluntary Organisations' (NCVO) website provides a wealth of best practice advice for all stages of the process including legal and insurance matters.

Note: the information above is UK focused, however, similar schemes may be available in other countries.

Continue to: ISTD Directory of Inclusive Dance Organisations, Providers and Publications