The ISTD's Role in Inclusive Dance
The following is an excerpt of our CEO Ginny Brown's speech at this year's Springboard, one of the ISTD's popular re-occuring events, which is run as an inspiring day of panel discussions, practical workshops and performances from industry experts, and which in 2019 was dedicated to inclusive dance practice and the presentation of the outcome of the ISTD's first research project to investigate the accessibility of ISTD syllabi for young disabled learners.

Ginny Brown's welcome speech at the ISTD's 2019 Springboard event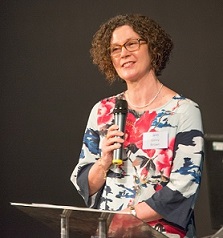 The ISTD's charitable objective is 'to educate the public in the art of dancing in all its forms'
Implicit in this aim is a desire to ensure everyone has the opportunity to learn dance
We are committed to broadening the range of learners with whom the ISTD engages
One area that we have identified for improvement is access to ISTD training for disabled learners
2 issues to consider:

How can ISTD practice be translated for different needs?
How can achievement and progress be appropriately recognised?
Because we are an examination board, genuine accessibility means ensuring there aren't unintended barriers to progression for disabled learners
The issue of training and progression in the disability dance sector was clearly articulated in a research report commissioned by Dance 4 – Changing Perceptions – written by Imogen Aujila and Emma Redding, which found that:
Whilst there are excellent opportunities for disabled learners to access participatory dance opportunities, there is a gap in provision between this first access and training for the profession
This is where, I believe, ISTD and other training providers should be contributing to finding solutions.
Our initial research focused on exploring ways in which to make ISTD syllabi accessible to a broader range of physical and learning needs, this resulted in the publication:
Pathways to Progression in Dance: Translating ISTD syllabi for young disabled dancers. (Launched at Springboard, February 2019 and available here on our web site… LINK)
The next step is to consider appropriate assessment procedures
I am clear that our research needs to sit in the broader context of the excellent disability dance work that has developed in the UK over the past 20 plus years
As one of the largest dance examination bodies in the world, we recognise that ISTD could play a particular role, and developed a project to explore the viability of making their existing syllabi more accessible to young disabled dancers.
We hope that you find these resources useful to your practice and that you will share with us how we can learn from your experience.

Ginny Brown, CEO Imperial Society of Teachers of Dancing

Continue to: Why Inclusive Dance and What Does it Mean