MA in Professional Practice: Dance Technique Pedagogy
The MA Professional Practice: Dance Technique Pedagogy (MAPP) programme at Middlesex University is part of the ISTD's advanced dance teacher training portfolio, offered in conjunction with the university.
This highly flexible qualification is aimed at newly qualified or experienced dance teachers who wish to develop their dance teaching practice within the area of dance technique pedagogy.
It is designed to allow applicants who wish to engage with Masters level study to reflect on and extend their existing knowledge base, to focus on their own development as a practising educator, and to advance their own teaching practice through critical evaluation.
This low residency programme has been developed especially to allow you to study at your own pace wherever you are in the world. The programme also allows you to continue working and integrate your professional expertise with academic learning through a work-based learning methodology.
Programme Highlights:
Accessible via distance learning.
Personal academic advisor throughout the course.
Ongoing tutorial support via email, skype and telephone (optional campus based tutorials available)
Comprehensive distance learning handbooks for each module.
Full access to the University's e-resource library.
Access to tutoring, mentoring and peer support via social media technologies.
International community of dance teachers
Why Study MA Professional Practice: Dance Technique Pedagogy at Middlesex?
Graduates will benefit from an academic qualification that establishes and demonstrates to a professional audience exacting standards of knowledge and skills, the ability to work with and communicate complex ideas and to bring to fruition a large, work-related project.
Other benefits include:
Study with one of the best universities for dance in the UK.
Internationally recognised for teaching and innovative research.
Excellent student satisfaction rating at 96%
Teaching staff are renowned experts and practitioners in their fields.
What does the programme include?
The programme will be divided into two parts:
Part 1: Achievement of 90 credits at level 7 (postgraduate level);
Part 2: Achievement of 90 credits at level 7 (postgraduate level) delivered by Middlesex University as work-based learning modules over a period of 12 months.
The time it will take you to complete the qualification will depend on your prior accreditation and experience.
Click here for further information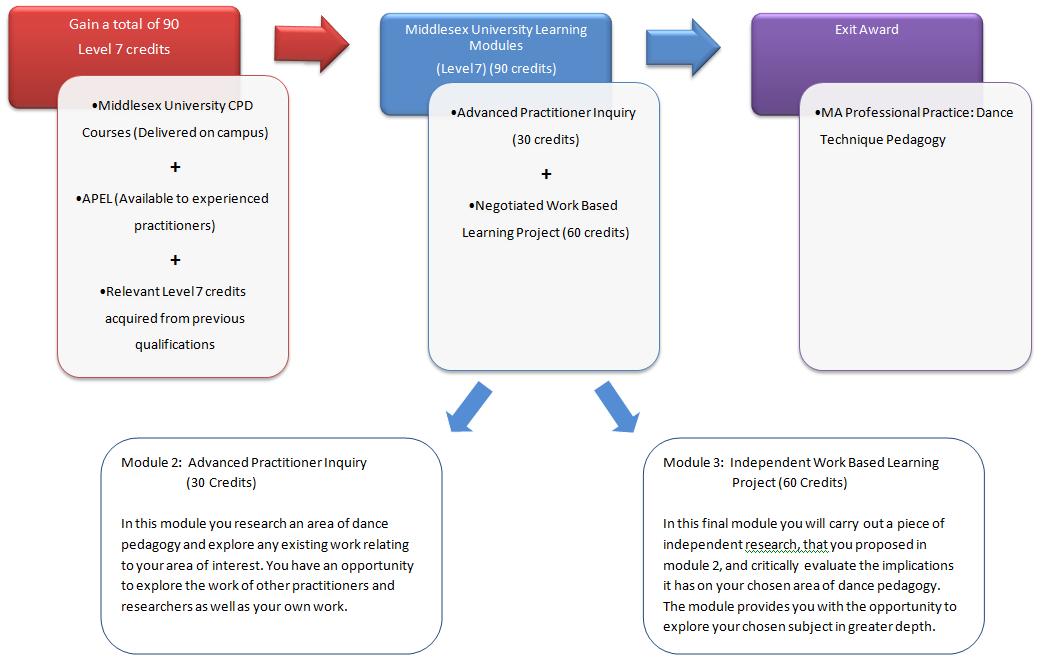 Recognising professional experience and training is at the core of the relationship between the ISTD and Middlesex University. Middlesex University wishes to recognise professional training undertaken with the ISTD, and learning achieved through professional experience. If you wish to mix various ISTD and other qualifications for progression onto the MAPP programme, please discuss this with Middlesex University directly.
The content of the course is based on the exploration and understanding of your professional teaching practice.
Current practice based experience is essential and all applicants are expected to show that they will be engaged in practice either full time, part time or voluntary (e.g. dancing or teaching) whilst studying.
You will be assessed via a combination of practical, theoretical and oral assignments including critical reviews, reflective essays and presentations.
The programme is delivered using a university virtual learning environment, online social networking tools (and optional campus sessions). You will be expected to have regular access to the web and email for the distance learning elements of the programme.
What happens next?
This course is tailored to meet the individual career aspirations of the students. Many of the applicants are already working at sophisticated levels and have ambitions to progress into senior dance teaching roles or related senior leadership positions.
It is not possible to achieve Licentiate or Fellowship status of the ISTD based purely on completion of this programme. But you may be eligible for this status based on other ISTD qualifications you have already achieved. Please contact ISTD for further information.
Has anyone else done this course?
Yes, every year a significant number of ISTD members have graduated from MAPP with an MA. Read about some members' experiences by clicking on the case study on the right side of this page
What are the entry requirements?
To start the programme, you should have at least two years teaching experience and hold one of the qualifications listed below:
ISTD Licentiate
ISTD Fellowship
Level 6 Diploma in Dance Pedagogy (DDP)
BA (Hons) Professional Practice (BAPP)
If you hold qualifications of a similar level that are not listed above (e.g. DTLLS), please contact Middlesex University directly to discuss specifics of your situation.
If you do not have any of the qualifications, but have substantial prior experiential learning, an experience practitioner route is still available. This involves a module in which you are required to evidence your prior experiential learning in order to gain academic credit for this through assessment.
If you are a newly qualified/less experienced dance teacher, you are most welcome. On application, the details of your professional experience and/or prior dance teaching qualifications will be reviewed to ensure your suitability for the programme.
How can I achieve the required 90 credits at Level 7?
Prior to accessing the Part 2 MAPP programme with Middlesex University, it is essential to have achieved 90 credits at Level 7 (postgraduate level). Please see the Level 7 Credits Achievement, which details how to achieve these credits.
Can I receive credits for my ISTD Licentiate/Fellowship?
All of these are non-accredited teaching qualifications and therefore you cannot receive any credits for them.
What is the name of the final award I will receive on completion of the programme?
The award is MA Professional Practice in Dance Technique Pedagogy.
Is there an upper age limit for the qualification?
No - the ISTD and Middlesex University welcome learners of all ages.
How much will the qualification cost?
The cost of the programme and related assessment and certification will vary depending on your prior accreditation and experience. Please visit Middlesex University website for the current fees - http://www.mdx.ac.uk/courses/postgraduate/professional-practice-dance-technique-pedagogy
In which languages is this programme available?
The programme is currently available in English only. Where English is not your first language, please check with Middlesex University for the language tests they might require before starting the programme. The University offers support to students with English as a second language.
How do I apply for this programme?
Progression onto this programme is subject to normal application processes. Applicants with ISTD qualifications should discuss their application with Middlesex University to ensure their full range of professional training and experience is recognised. For next course dates and application forms, please contact the University Work-Based Learning Admissions Team on wbsadmissions@mdx.ac.uk
For further information please contact:
ISTD: higherqualifications@istd.org
Middlesex University: Helen Kindred on h.kindred@mdx.ac.uk or Dr Adesola Akinleye on a.akinleye@mdx.ac.uk
Glossary of terms Are you baffled by all the acronyms used? Please click here for more information.