DDI/DDE Case Study - Lucy Robinson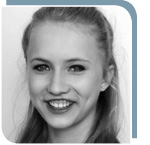 Lucy is studying the DDE in Modern Theatre, Tap and Imperial Ballet at The Centre - Performing Arts College as well as Classical Greek Dance at Kilburn School of Dance (Northamptonshire).
I chose to study dance teaching because I have always loved helping out with the younger classes and enjoy remembering routines/exercises. I looked up to my teachers whilst growing up because without them I wouldn't have been able to pursue my dream. I also love the planning and paperwork side of the qualifications, which I know not everyone does!
I have loved seeing how interesting and different each component of the qualifications is. I have learnt so many new concepts which I've then applied to my practical exams.
I found the DDI Health & Safety and DDE Lifespan exams a challenge as I hate revising and struggle with written exams. However, I have learnt the most from Lifespan Development as it is full of valuable knowledge, which can be used for dance teaching, or simply everyday life.
I also found completing point notes on cue cards helpful because it then didn't seem so much to learn and it wasn't such a daunting experience!
In the future, I would love to perform whilst maybe seeing a bit of the world. I would also be interested in teaching abroad. I am keen to also qualify in personal training and Pilates as I feel this is a helpful tool to aid myself and my students. In the long term I would like to pursue my exams further in order to become an examiner.
I would advise those thinking of taking up these qualifications to not be deterred by the fact that they are not degrees. There is an aspect of the qualifications to suit everyone. I would also advise students in the process of revising for an exam not to leave everything to the last minute. If you plan and are prepared then you will push yourself further, feel more confident, be able to apply your preparations to an everyday teaching job and, in turn, receive valuable skills.