Dance Exchange 2019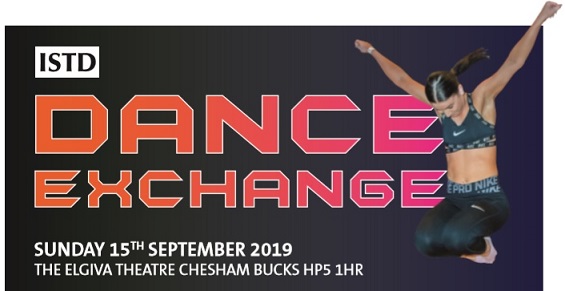 This event has now passed.
DANCE EXCHANGE is an exciting day of lectures, demos, and classes where ISTD teachers can brush up on technique, learn new routines to take back to their school, and network with like-minded individuals.
2019 Programme
08:45 - DOORS OPEN
09:15 - Warm Up led by Dexi Rowland
09:30 - Rock 'n' Roll 'Fun with the Syllabus' led by Laura Rampton
10:00 - Pairs Units with Joanna Bevan
10:30 - Street Style Routines led by Scott Simpson
11:15 - Polish up with Paul Streatfield
11:45 - Silver / Gold Freestyle with Gail Henry
12:15 - Professional Teacher Training led by Suzanne Hammond
12:45 - LUNCH
13:30 - Business Lecture from an ISTD HQ representative
14:00 - Low-Level Disco Routines led by Isla Selley
14:30 - Guest Lecturer: Gary Lloyd
15:15 - Slow beginning to Perfect End led by Georgia Hussey
15:45 - Cool Down led by Dexi Rowland
16:00 - Presentation of Set Dance DVD. Collection of Set Dance DVD and CPD Certificates with Paul Streatfield
16:30 FINISH
Tickets
ISTD Members: £37 | Non-ISTD Professionals: £47
For more information contact us at coursebookings@istd.org
Learn more about the DFR Faculty here.