Nurturing Talented Young Dancers & Bursary Awards
Nurturing Talented Young Dancers
This event has now passed. For more information on future events please contact Education & Training Department on +44 (0)20 73771577
Sunday 21st January 2018, The Lowry Theatre, Pier 8, The Quays, Salford, M50 3AZ
An exclusive insight into how some of the country's leading institutions identify and train their talented young dancers.
Selection criteria and training methods were revealed to teachers through inspiring demonstration presentations, whilst students experienced this training first hand in a series of master classes.
Our participating schools were:
Royal Ballet School Junior Associate Programme
The Lowry Centre for Advanced Training in Dance
The Hammond School
The Bursary Awards
This event has now passed. For more information on future events please contact Education & Training Department on +44 (0)20 73771577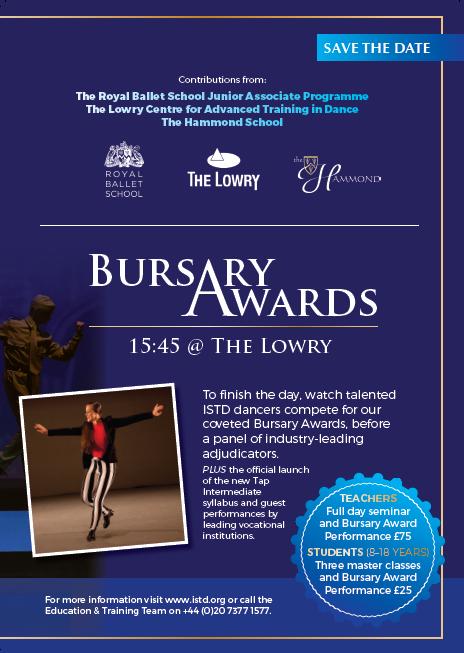 Sunday 21st January 2018, The Lowry Theatre, Pier 8, The Quays, Salford, M50 3AZ
Talented ISTD dancers competed for our coveted Bursary Awards, before a panel of industry-leading adjudicators.
PLUS the official launch of the new Tap Intermediate syllabus and guest performances by leading vocational institutions.