Disco, Freestyle & Rock 'n' Roll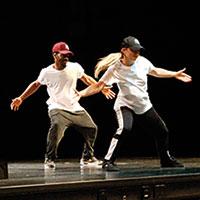 The aims of the Faculty are to create a sound and safe technique for Disco, Freestyle & Rock 'n' Roll and Country Western Dance while understanding the need to allow freedom of expression and musical interpretation and to educate teachers that dance within this Faculty is an ever-changing art form. Modern music, trends and different cultures will always give us new challenges and material to introduce to our dancers.
Please note: formation team routines should follow the same path as solo medal levels, e.g. sdt, pre bronze, bronze, silver, gold, stars etc.
Street Dance Workshop Day - Due to clashes of events the Street Dance day has been postponed. Please watch this space for the rescheduled date.

National Grand Finals Day, Sunday 8th October 2017. Venue CONFIRMED: The Guildford Spectrum, Parkway, Guildford

Dance Exchange, Sunday 17th September 2017. The Elgiva Theatre Chesham

Download the Disco, Freestyle, Rock 'n' Roll syllabus from the Dancesport syllabus page.

DVDs of the 2016 Dancesport Congress are still available. Download an order form and send it back to guarantee your copy. For further details please contact the Education & Training Department on +44 (0)20 7377 1577 or coursebookings@istd.org.

The Set Dance DVD 2015–2016 is still available. Please contact Patsy Graham: dfr@btinternet.com

The title of the DFR Faculty genre previously known as Street Dance & Commercial Hip Hop has been shortened to Street Dance.

A Glossary of Technical Terms for Street Dance is available from the ISTD Shop.

Download a history of the DFR Faculty. If you would like to find out more about ISTD history you can order your copy of 100 Years of Dance from our online shop.

Show how much you value ISTD teachers and download a selection of jpeg images to share on social media or post to your website.
News
13 Oct

YOU and a friend can experience a global celebration of dance with Dance Proms o...

05 Oct

It's time to join a global celebration of dance - Dance Selfie Day returns on Sa...
Events
Mon

Tue

Wed

Thu

Fri

Sat

Sun

1

2

3

4

5

6

7

8

9

10

11

12

13

14

15

16

17

18

19

20

21

22

23

24

25

26

27

28

29

30

31

December 2017
Sunday 05 November

Sunday 14 January