18 November 2020
Imperial Classical Ballet
Online Junior Awards
On Sunday 25 October 2020 the Imperial Classical Ballet Committee took the plunge - we held our first online event in the form of the Junior Ballet Awards, with a Grade 1 and a Grade 2 celebration ballet class for all the finalists selected from 140 video entries from around the world.
As with all first times, we planned carefully and learnt as we went along, doing our best to recreate a theatre performance experience as much as possible, whilst simultaneously taking into account such practicalities as safeguarding, the technical challenges of Zoom and social distancing.
On the day, because our adjudicators, Senior Examiner Mary Cooke and Committee member Tracey Warner, had already selected the prize winners from the video submissions, both the participants and audience were able to relax and enjoy the classes, taught beautifully by Fleur Jones and accompanied by Debbi Parks on the piano.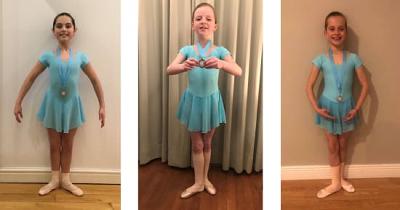 It was wonderful to connect with young dancers and their teachers, who joined us from all over the UK and Ireland, and also from Japan and Malaysia. There was a true feeling of coming together through our love of dance and of ballet in particular; and heartfelt thanks go to all the teachers who gave their time and expertise in entering their students. We hope you enjoyed the experience.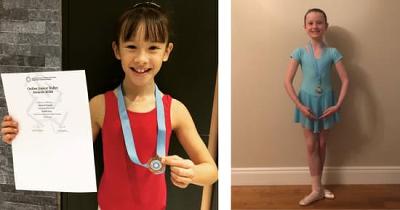 "It seems the ongoing pandemic was temporarily forgotten when we logged in to Zoom and enjoyed the Imperial Classical Ballet Junior Awards!
Every finalist in each section had been beautifully prepared and groomed, and their work is a tribute to all their teachers. Fleur Jones and Debbi Parks were, of course, magic; and Mary Cooke and Tracey Warner charming, as they did the honours, and announced the prize winners.
Candidates from all over the world in an almost intimate event – the joy of dance delivered to our door!"
- Kathy Ingram, Imperial Classical Ballet Examiner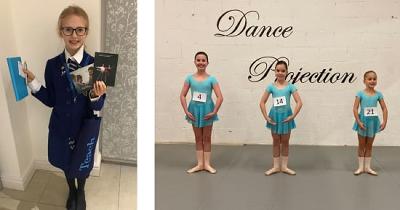 Results
G1 1st Place:
Lauren Hickey, Clonmel School of Dance. (Teacher: Alison Cronin)
G1 2nd Place:
Ailbhe McGarry, Clonmel School of Dance. (Teacher: Alison Cronin)
G1 3rd Place:
Alana Elizabeth Aspinall, Aspinall Academy of Dance. (Teacher: Julie Wilkinson)
April Bruggemeyer, South London Dance School. (Teacher: Zoe Dawson)
Lottie Fell, ElliTe Studios. (Teacher: Samantha Bell)
G1 Commended:
Bailey Bishop, East Sussex Dance Studios. (Teacher: Carys-Mari)
Scarlet Squier, Dance Projection. (Teacher: Heidi Speakman)
G2 1st Place:
Isabelle Allen, June Glennie School of Dance. (Teacher: June Glennie)
Hiranni Wagner, June Glennie School of Dance. (Teacher: June Glennie)
G2 2nd Place:
Eva Reid, Natalie Tough School of Dance. (Teacher: Natalie Tough)
G2 3rd Place:
Robyn Haigh, The Emma Coombs Dance Academy. (Teacher: Emma Coombs)
Lois Pankhurst, The Joanne Bond School of Classical Ballet. (Teacher: Joanne Bond)
G2 Commended:
Emma Adams, Sophie Dee School of Dance. (Teacher: Sophie Tighe)
Alyssia Power, Power Academy of Dance. (Teacher: Keely Power)
Congratulations to all the finalists for their achievement!
See more upcoming events via our events listings below.