14 June 2022
It is with deepest regret that we announce the sad passing of Lee Lee Lan, a stalwart of the ISTD in Malaysia for decades. She founded the Federal Academy of Dance in 1967 and trained many prominent dancers and dance teachers throughout her career.
Lee Lee first started her dance training with Soonee Goh and Blossom Shek and later trained in the UK with Eleanor Foxtrot. She was a Fellow of the Society in both the Modern Theatre and Imperial Classical Ballet faculties and held an arts degree from the University of Malaysia as well as the Advanced Teachers Certificate from the RAD.
As a result of many projects and developments to raise the profile of the faculties in Malaysia, the "Malaysian Awards" were born. Class competitions and workshops were organised, bringing dancers and teachers from across Malaysia as well as from Vietnam and Singapore. At our 2019 Malaysian Awards we had the honour of Lee Lee Lan's attendance, in which she gave her award for "Most Outstanding Dancer" across both the Senior and Premier categories.
Lee Lee Lan's dedication and commitment to teachers and students in the development of the Society's syllabus in Malaysia was unfailing and she will be sorely missed by so many.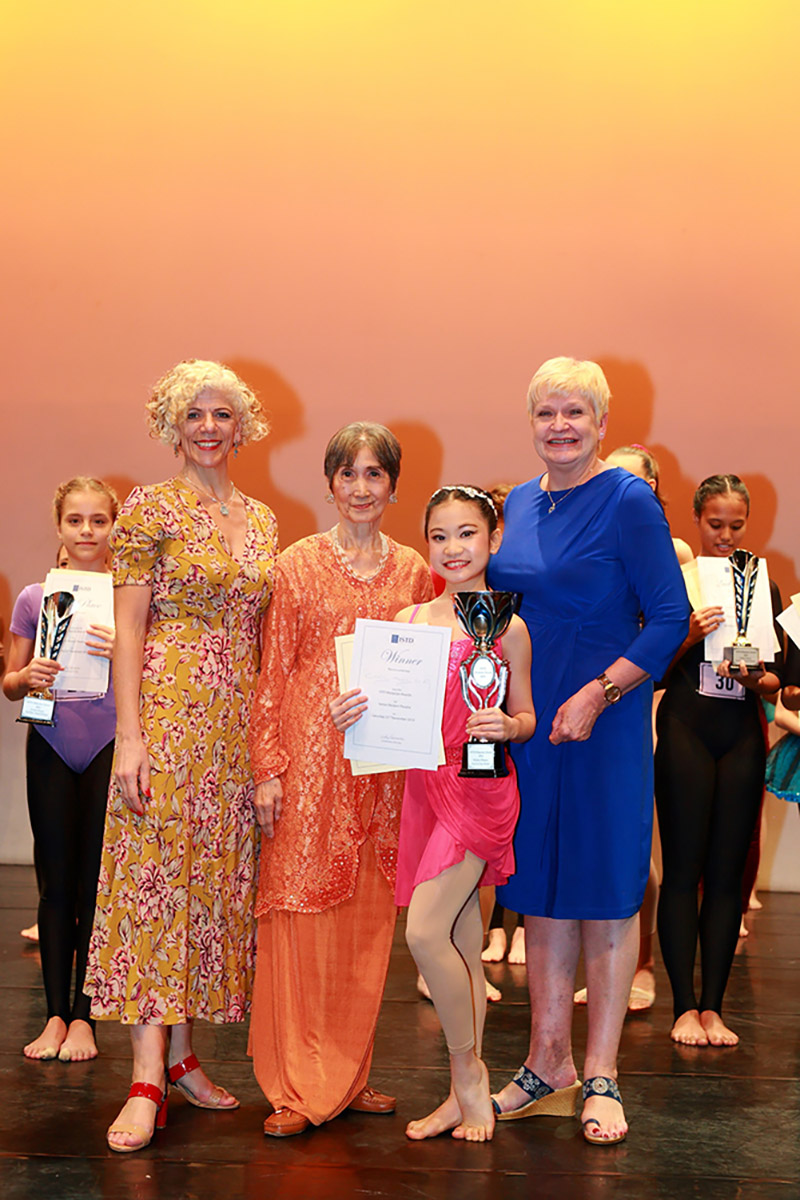 Tereza Theodoulou, Lee Lee Lan and Lyn Richardson with "Lee Lee Lan Award winner"
Faculty tributes to Lee Lee Lan
"Without Lee Lee the ISTD would not be so firmly and securely placed in Malaysia. She was a staunch advocate of our work and did much to pioneer our syllabus and encourage teachers in and around Kuala Lumpur to adopt the ISTD system. Her school was very successful, and she also toured at home and abroad with her own performance company. Lee Lee was always gracious in looking after visiting examiners and gave her time to teachers generously, producing lovely teachers and lovely students which is her legacy"
Elizabeth Harrison - Modern Theatre, Tap, Imperial Classical Ballet, and National Examiner
"I was fortunate to meet Lee Lee Lan in Malaysia at the 2019 Modern Theatre Awards where I was the class teacher, and she was the guest of honour and VIP! My overriding memory is how beautiful and elegant she looked, and the warmth with which she was greeted by participants, teachers, and audience alike. It was so fitting to have her there as she accomplished so much for the ISTD and dance in general in Kuala Lumpur. Miss Theodoulou and Miss Richardson were the esteemed adjudicators for the event, and I remember them asking Lee Lee Lan to come onto stage and join them for the results ceremony, a lovely moment for all involved."
Sadie Morgan - Imperial Classical Ballet, Modern Theatre and Tap Examiner, and Modern Theatre Committee member
"Mrs Lee – as all her students affectionately address her – was a dedicated and well-respected teacher and examiner whose Federal Academy of Dance was instrumental in the development of the ISTD work in Malaysia, introducing and organising examinations. As an Examiner she travelled overseas covering Tap, Modern and Ballet and when sharing a tour in Mexico, we amusingly learned many new Spanish phrases, and at a session in London, we danced our way through the tap syllabus. She brought her beautiful dancers from Kuala Lumpur to perform Malaysian Dance at Congress and even upon retirement continued to support ISTD at her studio.
At the very first Star Tap Awards in Kuala Lumpur, I took the classes with the talented tap dancers, many of whom were pupils of her past students. One of her protégés, Joseph Gonzales, now a successful teacher, choreographer, and author, was one of our gifted adjudicators and it was a joy to have Mrs Lee attend that day, creating many wonderful memories. Her legacy lives on in the students she nurtured and trained to become proficient teachers. Our thoughts and sympathy go to her family from the Tap Faculty."
Heather Rees - Tap, Modern Theatre and National Examiner, and Lead Examiner for Tap Professional Teaching qualifications
"Lee Lee Lan would walk into a room and be noticed. Her clothes were as bright as her personality. She was adored and respected by the hundreds of students and teachers she trained and nurtured at the Federal Academy of Dance in Kuala Lumpur, many of whom taught with her before opening their own schools throughout Malaysia. I first met Lee Lee Lan when the international examiners came to England to further their examiner training some twenty years ago. Over dinner, she painted a fascinating picture of her colourful life, full of passion for her college, her teachers and of course her wonderful family. As an examiner for three faculties, she had a vision to educate and inspire all she met into following the ISTD system, with many of her students going on to reach Fellowship status in Modern Theatre, Tap and Ballet.
On my first examining and teaching tour to Malaysia in 2013, she generously gave us the use of her studios for our teachers' courses. There was a buzz of excitement as we anticipated her visit on the last day. When she arrived the outpouring of love was palpable, confirming she will be sadly missed by all who knew her."
Tereza Theodoulou – International Ambassador for the Theatre Faculties, Modern Theatre and Tap Examiner and Lead Lecturer for Modern Theatre