18 January 2021
On Sunday 13 December 2020, the Imperial Society of Teachers of Dancing lost long-standing member Miss Joan P. Hardy, who died peacefully at home, in Brighton, at 93.
A fellow in Ballroom, Latin-American, Modern, National, Imperial Ballet, and Cecchetti, Joan was a member of the Imperial Society of Teachers of Dancing for almost 70 years.
Joan's work with the organisation
Joan was Secretary of the Imperial Society of Teachers of Dancing Stage Branch Group from 1953 to 1965, during which time she set up three teachers' groups. She held a position on the Modern Stage Branch committee from 1969 to 1992.
In the late 1950s, Joan became interested in the Graham technique and knew that this method would be a strong addition to the Stage Branch. Along with several colleagues, she was instrumental in creating four Modern Dance exams.
Later, she began her London teacher classes, coaching teachers from abroad whose schools were due to host the first overseas Imperial Society of Teachers of Dancing examinations in Modern, Tap, and Imperial Ballet.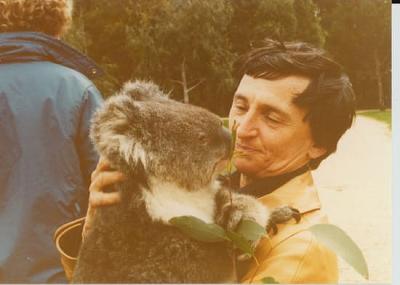 Joan in Australia during her time as an Examiner for the Society
Taking the organisation global
In 1965, Joan went to America to study at the Martha Graham School, where she persuaded Bertram Ross, one of America's finest contemporary dancers, to give her private lessons. She also studied Jazz with Matt Mattox and Luigi, two of the world's most renowned jazz dancers.
Before returning to the UK, she took the organisation's work to California, teaching Grade and Major work of the Modern and Ballet Branches, the National work, and Historical Dance. Consequently, Joan later became the first examiner for the organisation in Mexico and was among the first in Canada.
Joan helped introduce the Society's work to mainland Europe, teaching ballet grades in French to children at a school near Lyons, and acting as an examiner for the first examinations in Imperial Ballet in Genoa in the early 1970s.
Her long career as an examiner took her across the globe; visiting the likes of Australia, New Zealand, Hong Kong and Vietnam, to name a few.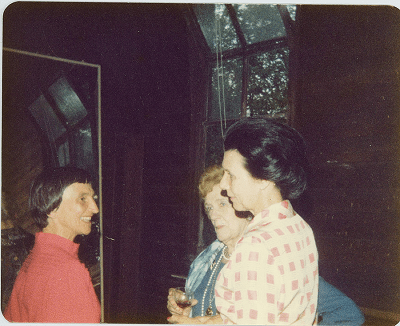 Joan pictured with Dame Beryl Grey
Remembering Joan
Joan loved dance, especially ballet, more than anything. Dance was in her bones. She could be difficult and exacting, but everybody she taught agrees that she enhanced their technique and that her classes were excellent.
Forthright, and not prone to suffering fools gladly, Joan could nevertheless be kind and extremely patient with children overcome by nerves, blessed with the ability to calm them enough to allow them to do their best. She is still spoken of fondly by many former pupils who, although finding her formidable at first, were soon won over by her dedication and expertise, and the love of ballet she exuded.
*The society would like to give a heartfelt thanks to Joan's God-daughter Fiona Weston for her contribution to this piece.