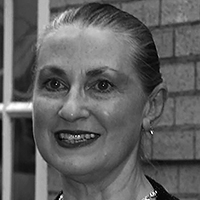 Trustee
Elisabeth trained at the Weston School of Dance & Performing Arts in Chelmsford, of which she has been Principal for 30 years, and with Joan Lawson and Nora Roche at The Royal Ballet School, White Lodge. She has danced extensively throughout the UK, has appeared on radio, television, and film, and is now a much sought-after teacher, adjudicator, and choreographer. She was a Lecturer in Dance at Harlow College, Essex for several years, choreographer for the professional pantomime in Chelmsford for 30 years and, for 18 years, choreographed for and directed the Chelmsford Ballet Company.
She holds the Enrico Cecchetti Final Diploma and Fellowship status with the Imperial Society of Teachers of Dancing of which she is a Life Member. Elisabeth is a senior examiner for the Cecchetti Classical Ballet Faculty of the ISTD and served on the Faculty Committee for 15 years from 1999, the final nine as Faculty Chair. During her tenure she was instrumental in mounting the Cecchetti International Classical Ballet's (CICB) triennial competition in the UK. Upon her retirement from the Committee she was awarded the prestigious Enrico Cecchetti Gold Medal.
Elisabeth was the Faculty's representative on the Theatre Faculties Board for many years and was appointed to the Council of the Board of Trustees from 2008 until 2015. In 2011 she was awarded the Theatre Faculties' Imperial Award for outstanding services to the Society. She is currently Chair of the Cecchetti Society Trust, a Trustee of the Imperial Benevolent Fund and, once again, a Trustee of the Imperial Society of Teachers of Dancing and Chair of the Nominations and Remuneration Committee.