Competition details
Entries are now closed.
The selection process is divided into two age groups, Juniors and Seniors with a competitor from each age group being selected to represent the Cecchetti Classical Ballet Faculty at the ISTD Theatre Bursary Awards 2022. A Junior and Senior reserve will also be chosen in case either of the winning representatives are unable to take part.
You will receive DropBox links in your entry confirmation email where you will upload your submission videos. Videos must be uploaded to the ISTD secure Dropbox account by 9am on Monday 18 April 2022. Late entries will not be accepted
The results will be announced via a showreel on the Cecchetti Classical Ballet Faculty Facebook page & the ISTD Website on Monday 16 May 2022.
TBC: Winners may also be invited to perform at Cecchetti Day 2022 which is taking place at the Royal Ballet School (London, UK) - Sunday 22nd May.
All participants will receive a certificate of participation by email.
Winners will be awarded a trophy.
Entry Criteria/Rules
Juniors must be 11 - 14 years on 1 September 2021.
Seniors must be 15 - 18 Years on 1 September 2021.
Both Junior and Senior entrants will enter a Classical Ballet solo of up to 2 minutes duration.
Solos to be danced through once from start to finish with no film edits.
Teachers are permitted to use the same solos for all their competitors in the same section.
Competitors body and feet must be clearly visible on the recording throughout.
Entries cost £17.50.
ENTRY CATEGORIES
Junior Award (11 - 14 years on 1 September 2021)
Must have passed Grade 3 or higher.
Students in vocational training may not enter.
Senior Award (15-18 years on 1 September 2021)
Non-vocational students must have passed Grade 6 or higher.
Students in vocational training may enter but must have passed or be studying Cecchetti at Intermediate level or higher.
WORK TO BE SHOWN
Junior Award
Teacher choreographed solo of up to 2 minutes duration to piano music. A dance choreographed for a graded examination at Grade 4 level and above may be suitable, if extended.
Junior dances should not be en pointe.
Senior Award
Either a solo choreographed by the teacher OR a solo from classical repertoire of up to 2 minutes duration, which may be performed en pointe.
Please note that the winner of the Senior section may also be required to perform a contrasting solo of up to 2 minutes in another genre of their choice at the Bursary Awards.
Health and safety
Safe dance practice / floor craft are paramount.
Teachers should ensure their competitors are fully warmed up before recording the video/s so as to perform in a safe manner, which will not cause injury, ensuring the area chosen to dance is suitable and clear from any obstructions.
Teachers should upload videos to the ISTD secure Dropbox via the link provided. Once the footage is uploaded, this should be deleted from the teachers device and not stored.
Guidance for submitting videos
Upon submission of the entry fee, the Dropbox link will be at the bottom of the Eventbrite PDF ticket, where teachers can upload their competitor's videos securely.
It is of paramount importance that the video is of good visual quality, and that the music can be heard throughout.
Competitor name/competitor entry category (i.e. Junior/Senior) must be written clearly on an A4 sheet and held by the competitor in clear sight at the start of the video.
Videos of poor quality may affect the result of entries.
Films recorded by a family member are acceptable, but these must be submitted by the teacher.
Videos must be submitted by ISTD teachers ONLY.
Video submissions must be clearly labelled as below:
Junior-Candidate Name - Teacher Name – School - Country
Senior-Candidate Name - Teacher Name – School - Country
Terms and Conditions
Principals & Teachers – Please ensure all teachers involved in preparing pupils for the competition are fully aware of and understand the competition rules.
Entries must be made by an ISTD teacher and not parents/guardians.
Entries can be from any country.
Anyone competing in this online event does so at their own risk. The Imperial Society of Teachers of Dancing will not accept any responsibility for any injury howsoever caused.
When ticket booking closes, a media consent form will be circulated to those who have booked tickets. Written consent must be obtained for competitors from parents/carers/guardians before submitting video/s.
By entering the competitor's video, you have agreed on the competitor's behalf, if they are selected as a winner or for any commendation, for their name and possibly footage of them dancing, to be published on ISTD marketing / social media channels.
Upon submission of your application on the competitor's behalf you are agreeing to the criteria set above and you agree to adhere to health and safety regulations and the competitor rules.
Video footage may be kept and used by the Society for any promotional purposes for up to two years.
No refunds are payable once an entry has been made and payment received.
The Adjudicators' decision is final, individual feedback will not be provided.
The competition relies on a certain number of entries being received. If insufficient entries are received the competition may not be viable and in this case entry fees will be returned. Competitors must be made aware of this by their teacher in advance. If the competition cannot take place teachers will be advised by email.
Meet our adjudicator
Anita Young MBE
FISTD ARAD Hon. Member of the BBO, Ballet Teacher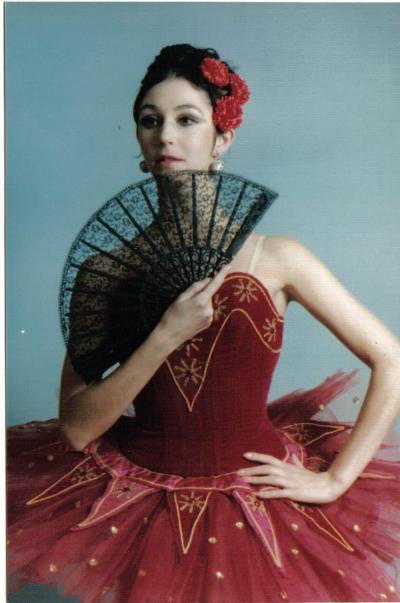 Miss Young trained at The Royal Ballet School, joining The Royal Ballet Company in 1968 and was promoted to soloist in 1974. She performed many prominent roles in both the classical repertoire and "heritage" ballets of Sir Frederick Ashton. On leaving the company, Anita was offered the position of Ballet Mistress with Northern Ballet Theatre, before taking over responsibility for the Junior Associates of The Royal Ballet School based at Sadler's Wells Theatre.
Miss Young decided to build a career as a freelance Teacher, Choreographer, Coach and Mentor, specialising in the Cecchetti Major Exam work. Anita has been a guest teacher for Michael Clark's Company, and for schools, colleges and companies in Australia, Canada, France, Germany, Italy, Japan, Malta, South Africa and the USA, as well as holding teaching positions at West Street Studios, The London Studio Centre, and The Central School of Ballet, as well as teacher to the Senior Associates of The Royal Ballet School.
Anita has also coached Professional Footballers, for the 'FA' at their 'National School of Excellence' in Lillieshall, as well as an American Football team and worked closely with United States Marine Corps, Sergeant, Harvey Walden IV, who is famous for the "Fat Club" UK television series, in which Anita also appeared, in 2002. Anita has also choreographed, and has given her own time, in support of charities; appearing in many television commercials and promotional videos.
In 2016, Anita was a guest teacher at the 'Paris Opera Ballet School'. In February 2019 Anita was awarded the MBE by the Princess Royal.