Welcome to this year's Classical Greek Dance Centenary Celebration 2023.
The Classical Greek Dance Faculty of the ISTD is proud to announce a Centenary Celebration Gala, paying tribute to the vision of Classical Greek Dance founder Ruby Ginner in creating a dance form inspired by the rich diversity of ancient Greek civilization in 1923.
The day will include a morning creative workshops, afternoon competitions and a celebratory gala performance showcasing the best of Classical Greek Dance.
Creative Workshop
Our creative workshops will be open to participants of all abilities and levels of experience in Classical Greek Dance.

Each category will comprise two consecutive workshops with the opportunity to perform in the Centenary Gala.

There will be a maximum of 30 tickets available for each level - please note these are provided on a first come first served basis.

The confirmation email will include a link to a media consent form. This must be completed by parents/carers/guardians confirming consent for any images/video footage taken during this event to be used for marketing and publicity purposes by the ISTD. Images and video footage may be kept and used by the Society for any promotional purposes for up to two years. This will also provide further essential information for each participant.
Age categories - as of 1 September 2023.
Junior - 9 years and under – working up to Grade 3 in any genre.
Intermediate - 10-13 years – working up to Grade 5 in any genre. SOLD OUT.
Senior - 14 years + - Grade 6 and upwards in any genre.
Centenary Awards Classes
Two on stage Centenary Awards Classes.
These will focus on excellence and achievement and are open to those who have taken Classical Greek Dance Examinations. Classes will take place on stage in front of a live audience.

Prizes: 1st, 2nd and 3rd places will be awarded in each category.

Entry Criteria
Class 1 – 11-14 years on 1st September 2023 Must have passed Grade 3.
Class 2 - 15-18 years on 1st September 2023 Must have passed Grade 6 minimum.

How to enter
Teachers must apply to classicalgreek@istd.org for entry to the awards.

Maximum 5 tickets per school in each category. Teachers will receive a personal awards ticket Eventbrite code for the total number approved.
Teachers must ensure all pupils have passed the required grade for entry to the Centenary Awards Classes and are fully aware of and understand the competition rules.

The Adjudicators' decision is final, individual feedback will not be provided.
Celebratory Centenary Gala
Celebratory Centenary Gala showcasing the best of Classical Greek Dance performed by invited dancers from schools around the UK.
Your Gala ticket will also allow access to both Centenary Awards Classes.
Please note you will need to show proof of ticket purchase on arrival to gain entry.
Tickets, T-shirts and T&C's
Tickets
Early Bird Ticket Opening Date - 5 June 2023
Early Bird Ticket Closing Date - 30 September 2023
Standard Ticket Closing Date - 16 October 2023
Spectator ticket - Early Bird £15 / Standard £20
Junior workshop - Early Bird £40 / Standard £50
Intermediate workshop - Early Bird £40 / Standard £50
Senior workshop - Early Bird £40 / Standard £50
Teachers/adjudicators observation - Early Bird £25 / Standard £35
Teachers and Adjudicators are invited to purchase tickets to observe throughout the day which will include a VIP lunch.
T-shirts
This year we have bespoke Centenary Gala T-Shirts - Please add to your cart when booking your tickets and pick up from the front desk on 5 November.
Child's t-shirt: £12
Small - Age 5-6 (chest 28)
Medium - Age 7-8 (chest 30)
Large - Age 9-11 (chest 32)
X-Large - Age 12-13 (chest 34)
Adult's t-shirt: £16
Small - (chest 34-36)
Medium - (chest 38)
Large - (chest 40-42)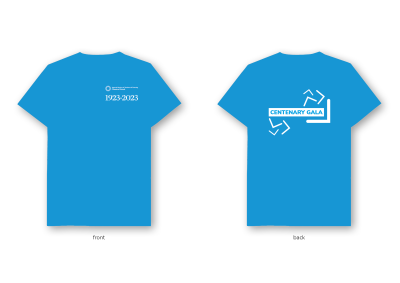 Terms and Conditions
The ISTD reserves the right to cancel or amend any session within this event and these terms and conditions without notice. Any changes to the event will be notified to participants as soon as possible by the organiser.
The integrity of the teacher is relied upon to ensure that the rules are followed by all participants to enable the smooth running of the event.
No refunds are payable once a ticket has been purchased and payment received.
Personal recording during any part of this event is strictly forbidden.
Upon booking tickets, all parties agree on the student's behalf to the criteria of entry, to adhere to health and safety regulations and the competitor rules.
Funds raised at ISTD events support ISTD's charitable aims of educating the public in the art of dancing and dance education.