Classical Indian Dance Teachers' Forum (November 2013)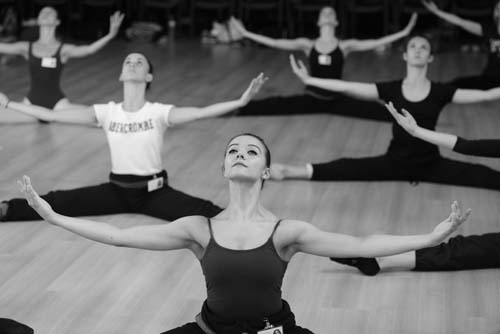 The ISTD offers a myriad of courses for members and non-members to support their professional development. These range from genre specific refresher days to residential summer schools to one day courses focussing on the promotion of safe dance practice and the psychological aspects of talent development.
The Education & Training Department also offer training for Tutors working on the accredited teaching qualifications programme as well as masterclasses for students, dancers, in conjunction with faculties, and training for members of the public to introduce them to the world of dance. For further information, please check the Courses & Training pages of the website.
If you have any questions about these courses please contact Education and Training on:
Tel: +44 (0)20 7377 1577 (ext 831/836)
Fax: +44 (0)20 7247 8309
Email: coursebookings@istd.org
Date:
Thursday 14 Nov 2013
Start time:
11am to 5pm
Venue:
Birmingham DanceXchange
Country:
United Kingdom
Faculty:
Classical Indian Dance
Event summary:
Classical Indian Dance Teachers' Forum
Event details:
The fee to attend is £25, which includes a light lunch and tea/coffee.
A reduced fee of £20 is being offered to those who are ISTD members.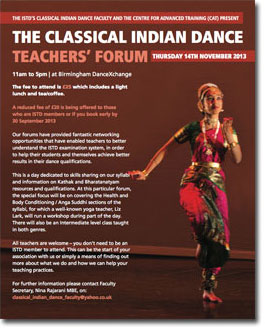 Our forums have provided fantastic networking opportunities that have enabled teachers to better understand the ISTD examination system, in order to help their students and themselves achieve better results in their dance qualifications.
This is a day dedicated to skills sharing on our syllabi and information on Kathak and Bharatanatyam resources and qualifications. At this particular forum, the special focus will be on covering the Health and Body Conditioning / Anga Suddhi sections of the syllabi, for which a well-known yoga teacher, Liz Lark, will run a workshop during part of the day. There will also be an Intermediate level class taught in both genres.
All teachers are welcome – you don't need to be an ISTD member to attend. This can be the start of your association with us or simply a means of finding out more about what we do and how we can help your teaching practices.
For further information please contact Faculty Secretary, Nina Rajarani MBE, on: classical_indian_dance_faculty@yahoo.co.uk
Following a research project and proposal from Akademi, South Asian Dance in the UK, a new ISTD Faculty was set up in 1999 to examine in Bharatanatyam and Kathak, the two classical Indian dance genres most frequently taught in the UK. Examining started in 2001 in various regions of the UK, with expansion into Europe, Canada, the US and Dubai, along with enquiries being received from other parts of the world, including Australasia, India and Pakistan.
Bharatanatyam is the name given in the early twentieth century to the dances known as Dasi-attam and Sadir-attam which evolved over centuries in the temples and royal courts of southern India. It highlights the beauty of strong lines leading out from the dancer's body, making geometric and symmetrical shapes, and is embellished with intricately expressive hand gestures and elaborate storytelling through exquisite facial expressions.
Kathak originated as a storytelling art form in northern India. It developed in Hindu temples and later in Mughal courts. It is characterised by fluid body movements, complex patterns of footwork, fast turns and sudden stillness.
Both of these genres are characterised by a close association with classical Indian music from south and north India.
Download a flyer for the forum.