Classical Indian Dance Teachers' Forum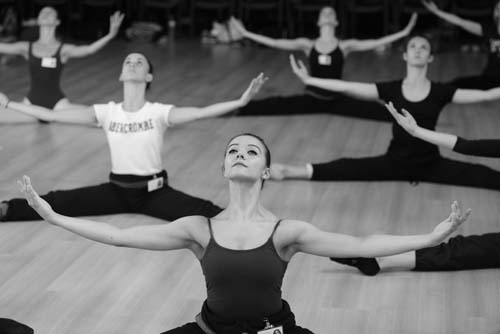 The ISTD offers a myriad of courses for members and non-members to support their professional development. These range from genre specific refresher days to residential summer schools to one day courses focussing on the promotion of safe dance practice and the psychological aspects of talent development.
The Education & Training Department also offer training for Tutors working on the accredited teaching qualifications programme as well as masterclasses for students, dancers, in conjunction with faculties, and training for members of the public to introduce them to the world of dance. For further information, please check the Courses & Training pages of the website.
If you have any questions about these courses please contact Education and Training on:
Tel: +44 (0)20 7377 1577 (ext 831/836)
Fax: +44 (0)20 7247 8309
Email: coursebookings@istd.org
Date:
Thursday 21 Mar 2013
Start time:
11.00am - 5.00pm
Venue:
ISTD2, 346 Old Street, London EC1V 9NQ
Country:
United Kingdom
Faculty:
Classical Indian Dance

Event summary:
The Classical Indian Dance Faculty and the Centre for Advanced Training (CAT) host the Classical Indian Dance Teachers' Forum. The fee to attend is £15 which includes tea / coffee and lunch.
Event details: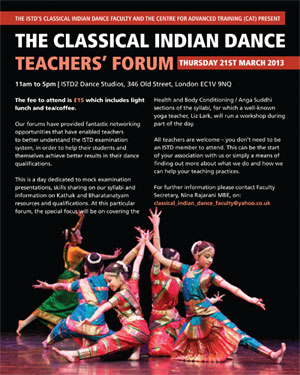 Download a printable flyer for the forum on Thursday 21st March 2013
Our Forums have proved to be fantastic networking opportunities that have enabled teachers to better understand the ISTD examination system for their students as well as professional qualifications for themselves.
At this Forum we will cover the Health and Body Conditioning / Anga Suddhi aspects of the syllabi for which a well-known yoga teacher, Liz Lark, will run a workshop during the day.
Once again the Centre for Advanced Training (CAT) will be offering limited bursaries to teachers to attend the Forum. Preference will be given to those teachers who have not received the CAT bursary for attending a previous Forum organised by the ISTD. These bursaries will be offered on a 'first come first served' basis. For further details on the bursary please contact: Anita Srivastava, Project Manager, Centre for Advanced Training: anita@newdimensions-arts.com
For further information on the day, please contact Faculty Secretary Nina Rajarani MBE on classical_indian_dance_faculty@yahoo.co.uk.
The fee to attend is £15 which includes tea / coffee and lunch.
To confirm your attendance please click below and complete the attached application form and send it with a cheque made payable to the Classical Indian Dance Faculty to the address below.
Click here to download registration form
Nina Rajarani MBE, 30 Bourn Avenue, Uxbridge, Middlesex UB8 3AR