DanceBiz webinar
Date:
Friday 14 Jun 2013
Start time:
12:30 - 13:10
Venue:
Online
Country:
United Kingdom

Event summary:
Join us for a free webinar and find our more about how DanceBiz can help you with your business!
Event details:
Love dance? Hate admin!
Attend the DanceBiz free webinar on Friday 14th June from 12:30 to 13:10 and find out how to minimise your dance school administration.
Click here to attend the webinar on 14th June. Whether you're at work, on your home computer or on your iPad, you can register from anywhere!
Unable to attend the webinar? Contact George on 01483 422 080 or email george@thinksmartsoftware.com to book a personal demonstration.
---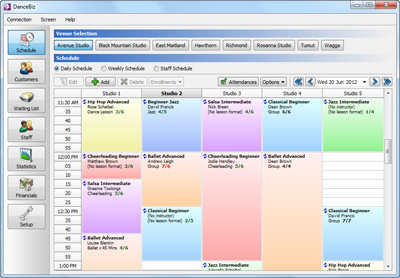 We are thrilled to announce that ISTD members can now take advantage of a special offer for DanceBiz, a management tool used by hundreds of dance schools to more effectively and efficiently run their businesses.
Members will receive a 14-day free trial and their first month free (a total of six weeks free) and will also receive a special discount on text messaging.
This easy-to-use software will change your dance business forever!
Save valuable time and manage your dance school's:
Customer database & records
Online class timetables
Term registers
Bulk email & texting to customers
Invoicing
Smartphone and tablet app available!
For more information about DanceBiz, please visit www.thinksmartsoftware.co.uk/dance-overview.
"DanceBiz is the hub of information at our dance school, it does so much. We used to spend hours typing registers, raising invoices manually, searching through registration forms for contact details, and now we can just click a button. It's made our life so much easier, we couldn't be without it!" - ISTD member, Teresa Brasseaux, Funtime Dance & Drama