Dancesport Faculties' Spring Congress 2013
Date:
Sunday 17 Mar 2013
Start time:
8.30am (registration) to 4.30pm
Venue:
Marriott Grosvenor Square, Grosvenor Square, London, W1K 6JP
Country:
United Kingdom
Faculty:
Sequence, Modern Ballroom, Latin American, Disco, Freestyle & Rock 'n' Roll, Authentic & Emerging Dance Sub-Committee
Event summary:
Don't miss this fantastic day of dance, to be held again in the fabulous setting of the Marriott Grosvenor Square!
Event details: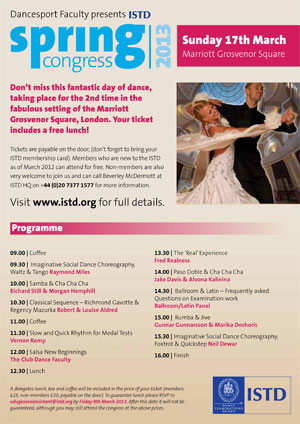 Each year during Spring Congress we welcome hundreds of dance teachers, both ISTD members and non-members alike, who are treated to a fantastic selection of lectures, workshops and demonstrations, with plenty of opportunities to take to the floor and try out some new steps.
With sessions on a variety of dance styles from Latin to Sequence, Ballroom to Salsa, there really is something for everyone during this fun-filled day.
Your ticket includes a FREE lunch!
Tickets are payable on the door (don't forget to bring your ISTD membership card).
Members who are new to the ISTD since March 2012 can attend for free. Non-members are also very welcome to join us and should call Beverley McDermott at ISTD HQ on +44 (0)20 7377 1577 for more details.
Programme
08.30 – Registration
09.00 – Coffee
09.30 – Imaginative Social Dance Choreography, Waltz & Tango – Raymond Miles
10.00 – Samba & Cha Cha Cha – Richard Still & Morgan Hemphill
10.30 – Classical Sequence – Richmond Gavotte & Regency Mazurka – Robert & Louise Aldred
11.00 – Coffee
11.30 – Slow and Quick Rhythm for Medal Tests – Vernon Kemp
12.00 – Salsa New Beginnings The Club Dance Faculty
12.30 – Lunch
13.30 – The 'Real' Experience – Fred Realness
14.00 – Paso Doble & Cha Cha Cha – Jake Davis & Alvona Kalinina
14.30 – Ballroom & Latin – Frequently asked Questions on Examination work – Ballroom/Latin Panel
15.00 – Rumba & Jive – Gunnar Gunnarsson & Marika Doshoris
15.30 – Imaginative Social Dance Choreography, Foxtrot & Quickstep – Neil Dewar
16.00 – Finish
A delegates lunch, tea and coffee will be included in the price of your ticket (members £25,
non-members £30, payable on the door). To guarantee lunch please RSVP to edugeneralassistant@istd.org by Friday 8th March 2013. After this date it will not be guaranteed, although you may still attend Congress at the above prices.
We are delighted to welcome back our stall holders who will be available throughout the day for purchases and any queries or questions you might have. And look out for some special offers on the day for ISTD members!
Lunch Menu
Cold Items:
Serrano Ham, Assorted Melon
Grilled Marinated Vegetables, Pecorino, Flat Breads (v)
Quicks Cheddar Tart, London Smoked Ham, Fig Chutney
Peppered Trout Parfait, Brioche Soldiers
Open Sandwiches:
King Prawn, Avocado, Tomato Salsa
Grilled Chicken, Swiss Cheese and Celeriac Slaw
Somerset Brie and Cranberry Relish (v)
Desserts:
Vanilla Panacotta
French Apple Tart, Cinnamon Sauce Anglaise
Brownie Square, Orange Meringue
Fresh Filter Coffee and Tea
Click here for directions and a map for the Marriott Grosvenor Square.
Click here for more information about the Dinner Dance, which follows Congress on 17th March.