Don't miss out on the opportunity to be in studio with ISTD Modern Theatre lead lecturer and examiner Tereza Theodoulou for an intensive five days of Modern Theatre CPD. Be part of this community to learn together and upskill on teaching and learning strategies, to get the best for your students and your school. There will also be opportunities for evening discussions and sharing of good practice to ensure you get the most out of your trip.
If you have any further questions, please contact coursebookings@istd.org and a member of the CPD team will get back to you.
Event details
Please note that delegates are required to commit to the full five days.
All course dates and times are stated in local time. Courses will include time for breaks; however, the exact timing of this break may vary from day to day.
Day 1: Wednesday 12 April, 10:00-17:00
Modern Theatre - Revitalised for All
As part of the society's mission to drive equality and inclusivity in the world of dance, the Modern Theatre committee and creative team have reviewed and revisited our syllabi, gaining recommendations and reflections from faculty and industry specialists. Therefore, over this academic year we are changing our syllabus exercise titles from "Girls/Female" to "Option A," and "Boys/Male to "Option B" to have more inclusive language. Thus, opening choices of exercises from across the entire syllabus to all, allowing teachers to select (alongside their dancers) mixtures of either option A or B exercises for their classes and examinations. Updates to all syllabus resources will be rolled out across the new academic year (changes to syllabus books will take longer). This course will outline these options with time to discuss management of these in class and in exam scenarios. As well as introducing training progressions for a new body strengthening exercise for option A dancers in grade 4 (as an alternative to the previously titled Boys floor sequence) and also training progressions for an adapted sequence for grade 5 "Preparation for falls" for option A dancers. These changes will not affect the volume of exam content or exam format as they are non-compulsory. The hope is that this work will broaden the teacher and candidates' choice of syllabus of work and therefore connect to the wider range of dancer's style, dynamics, and personalities. This course is designed for everyone teaching Modern Theatre, regardless of how newly qualified or experienced teachers may be. This information is especially vital for unit 4 tutors and DDE trainee students and will add background knowledge for those studying for licentiate and fellowship.
-----
Day 2: Thursday 13 April, 10:00-17:00
Revise and regenerate intermediate modern - adapted exercises to new music playlist with analysis of dance vocabulary and EDI options A and B
As the entrance exam for associate, the intermediate syllabus is the highest level studied when embarking on a career as a qualified teacher. Its analysis has a clear pathway through the grades and into the advanced 1 and advanced 2 syllabi. By revisiting and regenerating the same routes deeply embedded in the current intermediate, we can have insight into these same concepts of the dance movement vocabulary which will be further developed in all vocational work as well as a new revised intermediate. This course is designed to give you a deeper technical analysis with an insight to teaching points of the dance vocabulary embedded in the combination steps, amalgamations, and free work.
As part of the society's mission to drive equality in the world of dance, we have revisited the existing syllabus, opening the choices of previously named 'male and female' designated exercises for all dancers to select a mixture of either option A or option B. This innovative development will allow your students to experience a greater range of musical dynamics and a variety of physical and emotional qualities. By using a new playlist of completely free music you will be able to explore diversity of style regardless of your students' gender. Option B floor sequence will now be an option for all students so this may also be referenced if requested by delegates. This course is a must for anyone teaching intermediate, associate and associate diploma teachers and their students as well as anyone studying or coaching licentiate and fellowship.
Please note, this course will not cover the entire syllabus but will reference the aim and purpose of the set Limbering and centre exercises when applied to dance movements and their development and use in combination steps and amalgamations.
-----
Day 3: Friday 14 April, 10:00-17:00
Advanced 1 and advanced 2 dance vocabulary analysis, approach and development
This bespoke course will demonstrate how to develop your advanced 1 and advanced 2 students, both technically and artistically and will concentrate on the development of the turns, kicks, leaps, and steps of elevation required for both vocational syllabi. We will analyse the technical requirements that can be developed to accommodate varying physiques and how to establish your students' individual awareness of how to access their own potential. We will discuss a range of approaches to develop the dance vocabulary content and consider their inclusion in the technical and performance sequences as well as free work in a variety of combinations/styles.
We hope to have some advanced 1 and advanced 2 students to participate while you too also take part. This opportunity to observe students and develop your skills with the lecturers' guidance, will improve your eye and expectations for these vocational levels.
-----
Day 4: Saturday 15 April, 10:00-17:00
Development of rhythm, musicality, and artistic quality
This course is designed to encourage exploration of rhythm, its connection to musicality and the unbreakable relationship with quality and style. By referencing the set and free rhythm developments through the grades and intermediate, we will discuss how each level informs all dance movement using examples in arm sequences, isolations, and vocational performance sequences. Using a range of free music will begin to open emotional connections and pathways that add meaning and intention to your students' demonstration.
Throughout the course there will be opportunities to experiment with improvisation techniques that will establish a natural sense of interpretation prior to grades 5 and 6 and aid personal expression and artistic dynamics that underpin and enhance performance skills up to and including advanced 2.
-----
Day 5: Sunday 16 April, 08:30-15:30
Completion of new grade 4 floor sequence, teaching qualifications and Q and A
In this final days' course, you will learn the completed new grade 4 floor sequence which will bring together the training techniques, preparation and progressions studied on day 1.
We will analyse the teaching qualifications syllabus outlines, targeted at your own level, with clarification of requirements and suggested content to study. Analysis of the various marking criteria will give insight into the depth of knowledge expected at each level of qualification up to fellowship. In this course you will explore beyond the syllabus and consider how to mentor and develop a good teacher to become a better teacher. We will discuss the application of methods that motivate and help answer the question "How to prepare and inspire Associate and DDE, Associate Diploma, Licentiate and Fellowship candidates".
The concluding section will be given over to a Q and A session which will be dictated by your requests made and collated during the week. This may include clarification or revision of any work covered in days 1 to 4.
This course is recommended for anyone either studying or training candidates for Associate and DDE, Licentiate and Fellowship.
Meet the lecturer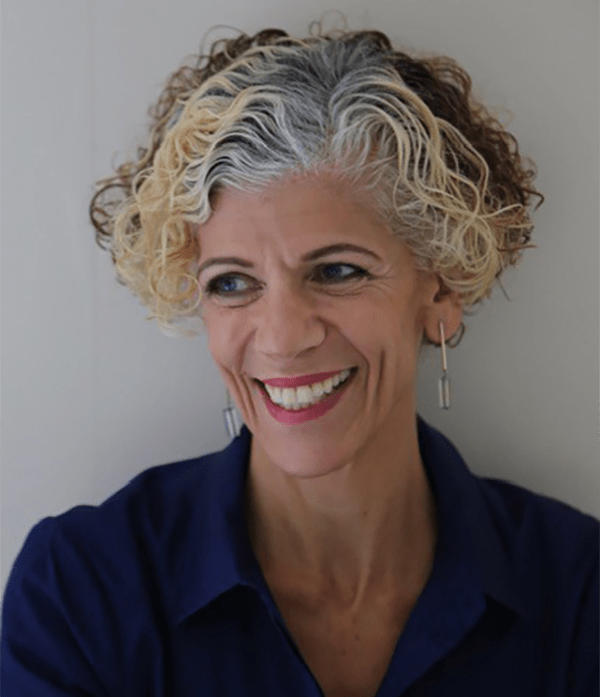 Tereza Theodoulou - Modern Theatre Lead lecturer
Tereza began her training with Joy Spriggs in North London, achieving fellowship status with distinction in both Modern Theatre and Tap Faculties. She continued her studies at the Alvin Ailey School and further explored the rich diversity of jazz and tap at various studios in New York.
Upon returning to the UK she co-founded her own jazz dance company; 'Overtures', where she created and performed in numerous productions including working with the British Theatre for the Deaf, culminating in a workshop presentation of 'My fair lady' at the Edinburgh Festival.
Tereza's teaching experiences span a multitude of roles in various vocational colleges including Head of Modern Dance at London College, Bedford, modern and jazz tutor at Laine Theatre Arts and Bird College as well as teaching for many years at The Deborah Capon College, Whitstable and Morea Performing Arts, Cheltenham.
Tereza is a freelance tutor and mentor for all status exams and frequently examines the length and breadth of the UK and internationally for the Modern Theatre and Tap Faculties. Tereza is a key member of our Modern Theatre creative team and also represents the Theatre Faculties as our International Ambassador.
Pricing and how to book
Pricing
The cost for this event is £535 for ISTD members and £660 for non ISTD members.
How to book
To book your place you will need to email coursebookings@istd.org, please include your ISTD membership number if you have one.
Student teachers
Waitlist available for student teachers for day bookings.
You can put your name down to attend one or more days of the intensive training event. This does not guarantee you a place. If you want a guaranteed place you are advised to book onto the whole event.
How this works:
Send an email to coursebookings@istd.org stating which day(s) you wish to attend - as an example: "day 2 and day 4". You will be put on a waitlist. If any places are available 3 weeks before the start of the event (22 March) places will be released. You will be sent a payment link for your choices and given a payment deadline. Only once you have completed payment and you have received a confirmation from us will your place be confirmed.
Pricing:
ISTD member - £130/day
Non-member - £150/day
Booking terms and conditions
Due to the nature of this activity the following terms and conditions apply.
A non-refundable deposit of £200 (ISTD member)/£250 (non-member) is required to secure your place by 20 December 2022 at the latest.
Should the ISTD be required to cancel the course due to low delegate uptake then the deposit will be refunded to members.
The event will be confirmed or cancelled by the ISTD by 16 January 2023.
Delegates are advised to book refundable travel and/or accommodation, as the ISTD will not refund any incurred costs if the event does not take place.
Delegates are required to commit to the full five days.
Should the delegate cancel their booking the ISTD will follow the cancellation table as outlined below with regards to making refunds, unless in exceptional mitigating circumstances.
In the event that delivery is affected by a local lockdown or any other force majeure, we will do our best to make alternative arrangements in order to ensure the course can go ahead. However, if this is not possible, delegates will be contacted and offered a refund or a credit note.
Where the attendee tests positive for Covid-19, via a PCR or lateral flow (RAT) test, and the period of compulsory self-isolation means they are unable to attend the event - a full credit note will be issued. The credit note is to be used within 24 months of the event date and refunds will not be issued.
This does not affect your statutory rights.
Delegates are responsible for their own personal property and safety. The ISTD cannot accept any responsibility for theft, loss or damage caused to personal effects.
Filming or photography of the event is not permitted without written permission being provided in advance by the ISTD.
Photographs/film may be taken throughout the event by an official representative of the ISTD for publicity purposes.
Consent and release form
ISTD is committed to the principle that the interests and welfare of participants taking part in dance activities is paramount. To comply with the Data Protection Act 1998, ISTD needs your permission before we take any photography or video of you.
By acknowledging and agreeing to these terms, I consent to ISTD photographing or videoing me at this event. I can confirm that I have been made aware that these images or video could be used in dance related publications, the ISTD website, at future events and broadcast on social media or video streaming services. I give the ISTD permission without time limit to use this photography or video (including facial images) worldwide on any medium.
How we use your information
ISTD will process your personal information in accordance with our privacy policy. Please refer to our privacy policy which can be found in full on our website, www.istd.org.
Cancellation fees:
Up to 26 days before the first day of the event – deposit is non-refundable
25-16 days before the first day of the event - 50% cancellation fee (deposit is non-refundable)
15-8 days before the first day of the event - 75% cancellation fee (deposit is non-refundable)
7 days or less before the first day of the event - 100% cancellation fee
Member cancellations
| | | | | | | |
| --- | --- | --- | --- | --- | --- | --- |
| Item | Days before | From | To | Amount Paid | % to Refund | Amount to Refund |
| Deposit | Any time | 01 Dec 22 | 12 Apr 23 | £200 | NON REFUNDABLE | NON REFUNDABLE |
| Balance | Up to 26 | 01 Dec 22 | 17 Mar 23 | £335 | 100% | £335 |
| Balance | 25-16 | 18 Mar 23 | 27 Mar 23 | £335 | 50% | £167.50 |
| Balance | 15-8 | 28 Mar 23 | 06 Apr 23 | £335 | 25% | £83.75 |
| Balance | 7 or less | 05 Apr 23 | 12 Apr 23 | £335 | NON REFUNDABLE | NON REFUNDABLE |
Non-member cancellations
| | | | | | | |
| --- | --- | --- | --- | --- | --- | --- |
| Item | Days before | From | To | Amount Paid | % to Refund | Amount to Refund |
| Deposit | Any time | 01 Dec | 12 Apr | £250 | NON REFUNDABLE | NON REFUNDABLE |
| Balance | Up to 26 | 01 Dec | 17 Mar | £410 | 100% | £410 |
| Balance | 25-16 | 18 Mar | 27 Mar | £410 | 50% | £205 |
| Balance | 15-8 | 28 Mar | 06 Apr | £410 | 25% | £102.50 |
| Balance | 7 or less | 05 Apr | 12 Apr | £410 | NON REFUNDABLE | NON REFUNDABLE |