New from around the globe - July 2013
Examinations in Japan - flying the ISTD flag in Japan
It was a privilege and exciting to be given the opportunity to examine and teach in Japan. After more than a day's journey, I finally arrived in Matsusaka, welcomed by Lisa Johansson-Sawamura and her husband, Louis. After much needed sleep, it was a treat to be taken sightseeing around Ise-Shima, where I visited shrines, was initiated into a tea ceremony at one of the houses and later, watched some amazing Japanese drummers.
Examining commenced on Monday, with five very full days of Imperial Ballet, Modern Theatre, Tap and National Dance ahead. The children were delightful and enthusiastic with some very good work shown, particularly in Imperial Ballet which included some award winners from the Malaysian Ballet Awards and one from the Junior Awards in England. Despite Matsusaka being a non-English speaking town, we communicated well and it was a pleasure to conduct the examinations, with special thanks also to pianist, Mrs Luka.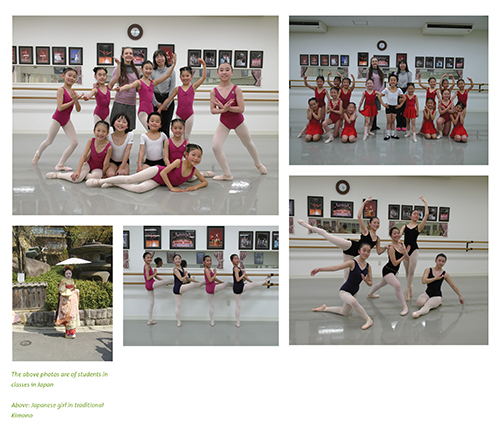 Saturday was my day off and will always be memorable. We visited Kyoto, which previously served as capital of Japan, seeing Kiyomizu temple with its beautiful grounds full of cherry blossom trees in bloom; young girls who were eyecatching in their traditional kimonos; and later, driving to the Golden Pavilion Temple with its magnificent gardens.
On Sunday, there were open classes including four levels of grades, from Primary to Advanced 2 Imperial Ballet, where students were eager to learn and very responsive. The last day was taken up by coaching Modern Theatre and Tap. It was encouraging to hear that some students are hoping to go back to Malaysia for the Modern Theatre, as well as the Ballet Awards in November.
I would like to express my sincere thanks to Lisa and Louis for looking after me so well and taking time to give me an insight into the Japanese way of life. Keep the ISTD flag flying!
Judith Hockaday
-------------------------------------------------------------------------------------------------------------------------------------
Cecchetti and Cherry Blossom
It is always a privilege to examine for the ISTD but it was an added honour to be invited to undertake a 10-day tour for the Cecchetti Faculty in Japan. This was my first trip to Asia and although I had heard much about Japan, nothing could prepare me for the graciousness of the Japanese people.
My first stop was in the vibrant city of Tokyo where I was met at the airport by Miho Tsurutani and her husband and assistant, Yumi Imamura. Miho trained and danced professionally in the UK and established the flourishing Ballet Garden School two years ago, so there was a sense of great excitement about the first Ballet examinations to be held there. The students were all beautifully prepared and, following the exams, I taught three free classes at Grades 2, 4, 6 and Intermediate level.
Tokyo is a wonderful, neon-bright metropolis and I am most grateful to Miho and her husband for treating me to a whistle-stop sightseeing tour. We had a spectacular nighttime view from the new observation tower, a unique taste of Japanese cuisine and hospitality for lunch and experienced the beauty of the Rikugien Gardens with the exquisite cherry blossom.
The next stage of my tour was south into the countryside to Hikone, by the Shrinkansen Bullet train. For this journey, I had the pleasure of the company of Assistant/Dancer, Akemi. Our hotel gave us a wonderful view of the iconic Hikone Castle, perched up on a hill behind a double-moated fortress. Here, I met Miko, who was to be my pianist at the Ono Ballet Academy in Hikone, where the Cecchetti Vocational work is carefully taught by Yukie Fujino and who had prepared the Advanced One Vocational candidates to a very high level.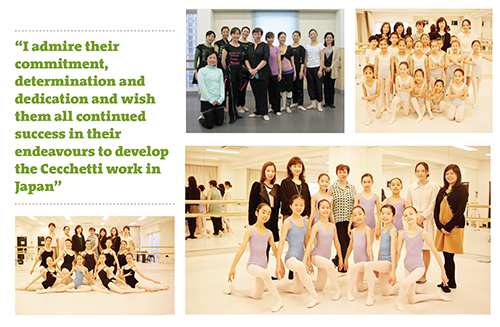 At the end of the exams in Hikone, I was invited to give an introductory lecture/class on Grades 1 to 6 with an insight into the Associate examination, as there is much interest here among the students in taking teaching examinations. Japan produces some wonderful dancers, so I was fascinated to learn that there are no formal unified training structures in place when it comes to teaching qualifications. It was clear that this small group of English trained Japanese teachers are passionate to promote and develop the Cecchetti work of which they are so proud to have as their roots. Miho travelled down from Tokyo and Kafuyu Shintani, my teacher at my final destination, also came to Yukie's Associate session to show a support and desire to learn. I admire their commitment, determination and dedication and wish them all continued success in their endeavours to develop the Cecchetti work in Japan.
From Hikone, I travelled with my next host, Kafuyu, to Kobe, my final destination. Kafuyu trained as a teacher at the Royal Ballet School and has an established Ballet Academy in Ashiya. She has a broad teaching background but has converted her school back to the Cecchetti Method as she feels this is where her roots lie and that it is the best training method for her students. Kafuyu is currently involved with the designing of a new university degree course in Classical Ballet studies. She is aiming to put the Cecchetti Method at the centre of its methodology and I wish her every success with this initiative. On my rest day, Kafuyu kindly offered to take me on a tour of the Kobe area. It is a city built on commerce with a container shipping port. We visited the Kobe Port Museum and observation tower down by the waterfront, and then travelled inland, taking a cable car up to a mountainside herb garden with spectacular views. Finally, to celebrate the end of my tour, we had a traditional Japanese meal.
I hope I was able to take a little of 'us' to the Japanese teachers I met and let them know that they are very much part of our extended Cecchetti Family.
'Arigato' from the bottom of my heart to you all!
Alison Jenner
-------------------------------------------------------------------------------------------------------------------------------------
Memories from Canada and the USA
I have just returned from a hectic but wonderful tour of Canada and the USA. Everyone, without exception, was so friendly and helpful. All the candidates on my tour were extremely polite and showed a wonderful enthusiasm and love of dance of which I was proud to be a part. The standard at some schools was outstanding and a joy to watch.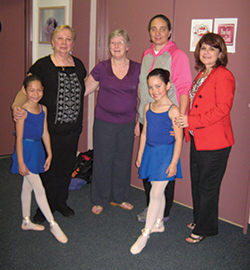 After arriving in Calgary, I was driven to my first venue in a blizzard, where some of the candidates had a four-hour trip from Edmonton to get to their exam. This was at the School of Alberta Ballet where I was met by fellow Examiner, Shirley Agate-Proust who teaches there. I was in Calgary for over a week at various schools. We had a good teachers' session where hopefully, some of the newer teachers were able to appreciate our work. I would like to thank the teachers for helping me to arrange my trip up into the Rockies at Bamff on my rest day – a truly wonderful day.
From Calgary, I moved on to Winnipeg where it reached minus 25 degrees Celsius one night! It was my birthday whilst there and I was greeted by Shelly Shearer-Nelko with a cake. On to Orillia, before attempting to cross to the USA. This resulted in an unscheduled stop in Chicago due to terrible snow storms but, back on track the next day, I reached Nebraska's Lincoln Airport and was driven 100 miles to the venue where, again, everyone was so welcoming and nothing seemed like too much trouble.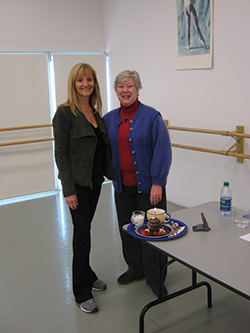 My last stop was San Diego. After snow and 'minus' temperatures, it was now more than 20 degrees and so lovely to feel some sunshine. I had four days here at two different schools and an afternoon free to whale-watch, for which I would like to thank the teachers for arranging before flying home.
This trip has made me realise that people travel many miles to get from one city to the next on a regular basis to achieve their goals. I would like to thank Tania Trosini and Mara Sandres, who worked hard to put this trip together, and also my family who have supported me all the way. I have met some wonderful teachers and pianists and feel privileged to be doing the job that I do.
Beverley Rand
-------------------------------------------------------------------------------------------------------------------------------------
Modern Exams in Cyprus
Modern examinations were held in Chloe and Stala Middleton's Ballet School in Nicosia, Cyprus on 27th and 28th of March, with examiner, Susan Garrard. The students really enjoyed the exams and are looking forward to their next ones!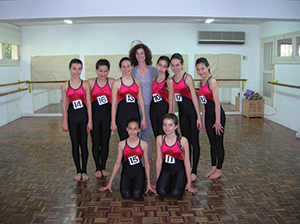 Annie Natalia Chliara, one of the Grade 5 students said, "Just like everyone, we are also concerned about the economic crisis of our country and the consequences this will have on our everyday lives and what we love doing the most; dancing. Due to the reduction of our parents' income, we might have to stop taking dance lessons, so we make sure we enjoy every minute of them and our exams. When our Modern Theatre exams took place in Nicosia, we really loved and enjoyed them. The examiner welcomed us and created a friendly atmosphere with her wide smile."
Annie Natalia Chliara
-------------------------------------------------------------------------------------------------------------------------------------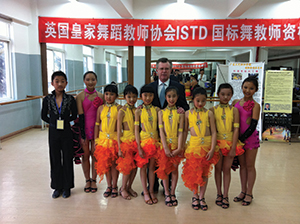 First ISTD Latin American examinations held in Kunming, China