News from Around the Globe - April 2015
Dancesport Examinations in Mumbai, India
Step Up Academy
In 2014, we not only had students appearing for Latin and ballroom but also students for DFR Exams. The great new thing was that ISTD DFR examinations were conducted for the first time in India. We are encouraging more students to appear for ISTD Exams in 2015.
A momentous and very enjoyable examination day began on 7th December 2014 with enthusiast ISTD examiner Ms Jill Bush. She made me feel at ease with her lovely smile. Ms Bush made it a memorable experience for my students and me, and encouraged them to perform to the best of their ability.
The examinations had grown to two full days. Four students took the Bronze Medal exams and two students appeared for Silver Medal exams as well as almost 80 Social and Pre-Bronze exams. Also, Ms Bush examined our three students for Student Teacher examinations. All my students enjoyed their stress-free experience with Ms Bush. Thank you, Ms Bush, for a great time and it was a wonderful experience to work with you! Also, we would like to thank Ms Tania Trosini for her constant support and timely feedback for smooth functioning throughout.
The School of Classical Ballet and Western Dance
I would like to share a picture taken when the Latin American exams were held at our school in Mumbai in December 2014. We had a lovely exam session on Friday 5th and Saturday 6th December at the Malabar Hill club with Ms Jill Bush.
Khushcheher Dallas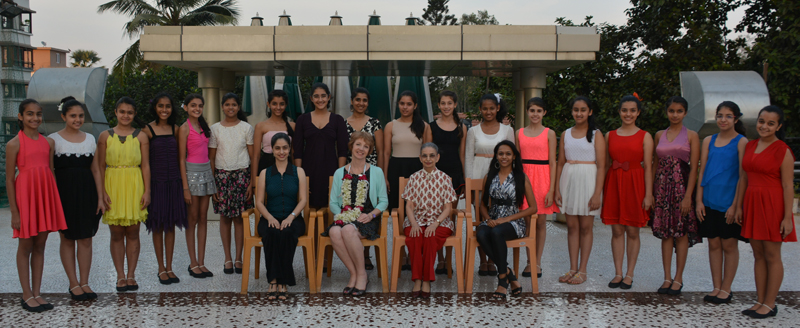 ---
Showcase of 2014 ISTD Malaysian Examinations Successes
Our achievement was undoubtedly due to the great work and foundation initiated by the many ISTD senior examiners who have graciously given their time and effort to be with us year after year. They will be very proud to know that 2014 topped the exams list with over 500 candidates. A good combination of Amateur Dance Tests of various age groups, grades and professional examinations from student teacher to Fellowship. In 2014 we witnessed a substantial growth in DFR. This was proven by the increased entries in the Medallists Festival on the final day – an awesome day supported by doting parents and enjoyed by all. The Malaysian ISTD teachers were proud to showcase their students' successes in the October 2014 ISTD examinations conducted by the visiting examiner Ms Margaret Connon.
---
January Street Dance Weekend in Bergamo, Italy
I was recently sent to Bergamo in Italy for a two-day course on essential learning for Associate level in street dance. The course was well attended and participants came from far and wide. Most of these had attended the previous one day presentation course that I ran in September 2014. Most of them were ISTD theatre qualified, holding at least a DDE. Others were unqualified teachers with considerable prior street dance experience and training. On the first day the main focus, after introducing the teachers to street dance within the ISTD, dancesport and DFR Faculty in particular, was on demonstrating and teaching all of the funk style steps within the glossary. This was accompanied with music examples, history and relevant origins of these styles. The energy was very positive and enthusiastic and left me inspired. The second day focused on essential learning for Associate level based on the syllabus outline. More time was spent going through the glossary to include the commercial styles. We then briefly recapped the funk styles steps from the day before. I taught two contrasting routines, urban and jazz funk, these were received very well. We went through the amateur syllabus, spoke about levels and observed audiovisual demonstrations of students working at various levels including Social Dance Tests, Bronze, Silver and Gold, again in varying styles of street dance. The importance of freestyle and appropriate teaching methods were discussed at length with the teachers joining in a universal freestyle. The remaining styles and histories were also discussed. Finally, the teachers were adequately cooled down and there was time for questions at the end. For their own confidence and working knowledge I absolutely advised their taking the Associate examination. To conclude, the course itself went very well and I felt was received with enthusiasm from teachers eager to learn and hungry for the work. I extend a big thank you to Miss Teresa Hall for her superb and very intensive translating skills.
Samantha Vale
Carolyn and Elizabeth Burnett:
What an amazing weekend! So much inspiration from Samantha Vale in the teaching course in hip hop and street dance, in Bergamo, Italy. Samantha's enthusiasm, hard work and expansive knowledge had a profound impact on all of us. So much energy, fun and a real insight in the world of street dance. Two days of full immersion, not only in dance, but also in the culture and history. Our sincere thanks to Teresa Hall for her precise translations, which is hard work in itself. And a very fond thank you to Samantha Vale. We're already looking forward to the next time!
Italian: Un weekend incredibile. Così tanta ispirazione da Samantha Vale durante il corso per insegnanti in hip hopand street dance organizzato a Bergamo, Italia. L'entusiasmo di Samantha insieme al duro lavoro e la sua conoscenza approfondita ha avuto un impatto su tutti noi. Così tanta energia .... Un vero e proprio viaggio nel mondo di street dance. Due giorni pieni non solo di danza ma anche della sua storia e la sua cultura. Ringraziamo anche Teresa che ha tradotto in modo impeccabile per tutto il weekend, e un grazie di cuore a Samantha Vale ... Non vediamo l'ora di rivederla al più presto!
Katia Camarda:
I am very happy to have participated at the street dance course. It was very satisfying in both the format and the theory, both of which the lecturer was excellent at teaching.
I would like to get a more in-depth look at the teaching aspects especially for children. Thank you.
Italian: Sono molto contenta di aver partecipato al corso di street dance. È stato soddisfacente dal punto di vista formativo e la docente è davvero brava ad esprimere tutti gli aspetti del lavoro sia nella teoria che nella pratica, mi piacerebbe approfondire la parte didattica soprattutto per le basse fasce d'età. Grazie.
Ilaria Fontana:
I had the pleasure of participating at both the presentation day in September and the Associate course for two days in January. I personally found the course very interesting. It resolved some of my doubts, which had arisen from thecourse in September and I also learnt and understood the steps from the glossary. Samantha Vale, lecturer and member of the creative team, was very willing to answer all our questions and help us where needed.
Italian: Ho avuto il piacere di partecipare sia all'incontro di presentazione svoltosi a settembre e sia al corso di due giorni del 17/18 gennaio. Personalmente ho trovato il corso interessante. Ha risolto alcuni miei dubbi sorti durante il primo incontro di settembre. Mi è servito per capire e provare i passi presenti nel glossario e le capacità, abilità e competenze richieste. Samantha Vale, lecturer e component del creative team, è stata molto disponibile ad ogni chiarimento.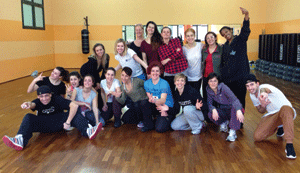 ---
DDI and DDE Tutor Training Course for Generic Teaching Skills, Bologna, Italy
Arriving at the Hotel Corona D'Oro in the centre of Bologna, we all received a warm welcome from the hotel staff. The first morning was bright and sunny and I took the opportunity to go for an early morning walk to explore the beautiful medieval city centre before embarking on a very busy two days of tutor training. The course was held in a conference room at the hotel, and we were also able to enjoy lunches together in the hotel each day, which gave everyone the opportunity to catch up on news with old and new friends alike. Tutors had travelled from all over Italy and Malta, and during the course I had the assistance of bilingual tutors to ensure that everyone could understand the recent changes to the DDI and DDE paperwork. We had valuable discussions on the revisions to the DDE Final Teaching Assessment and it was good to see all the tutors working together in groups to share their knowledge and help each other throughout. At the end of the course I think we all left feeling a little tired but that the weekend had been enjoyable and productive. Thanks must go to Tania Trosini for organising the course in such beautiful surroundings, and to Christina Orsi and all her staff at the hotel who were so helpful throughout.
Jill Knight
Shirley-Anne Osborne:
The DDI/DDE Tutor Training course for Generic Teaching Skills was held in Bologna on Saturday and Sunday, 31stJanuary and 1st February 2015.Bologna was a very good choice as a location, as it is reasonably accessible, both by train and plane. This was reflected in the attendance with tutors travelling from as far as Bergamo in the north, to Bari in the south and also Malta. The Hotel Corona D'Oro, where the course was held, offered very good conference and catering facilities as well as being very centrally located in the town centre, just a 20 minute walk from the station. Jill Knight came out to Italy to lecture for the course and quite frankly, was marvellous, creating a friendly atmosphere for study, where everyone felt free to ask questions if needed. There was an enormous quantity of work to cover in the two days because not only were the principles of tutoring covered for new and old tutors alike, but all the changes in the paperwork and examinations procedures were explained in detail. Jill Knight was very clear and precise in her explanations, giving practical examples with the use of visual aids, DVDs and exercises for practical application of the theory in order to make sure we all understood. Many thanks to all the organisers of the course for making this such a pleasant experience, but most of all thank you to Jill Knight for teaching us all with total professionalism, dedication and friendliness.
Italian: Il corso "Tutor Training for Generic Teaching Skills" si è tenuto a Bologna , sabato 31 gennaio e domenica 1° febbraio 2015.Bologna si è dimostrata essere un'ottima scelta per il corso, perché facilmente raggiungibile, sia in treno che in aereo. A dimostrarlo il fatto che vi hanno partecipato tutors da tutta Italia, da Bergamo fino a Bari, e anche da Malta. L'Hotel Corona D'Oro, convenientemente situato nel centro della città a soli venti minuti a piedi dalla stazione centrale, ha offerto un ottimo servizio sia nella sala conferenza che nel catering. Jill Knight è stata semplicemente meravigliosa nel tenere il corso e ha creato un'atmosfera di studio amichevole,in cui tutti ci siamo sentiti liberi di fare domande se necessario. La mole di lavoro da coprire in due giorni è stata considerevole, perché non solo abbiamo studiato i principi di tutoring per il DDI e DDE sia per i nuovi tutors che per quelli già collaudati, ma abbiamo anche esaminato in modo dettagliato tutti i cambiamenti nella modulistica e nelle procedure per gli esami. Jill Knight ha dato spiegazioni in modo molto chiaro e preciso e si è servita di materiale audiovisivo per aiutarci nella comprensione attraverlo un'applicazione pratica della teoria. Grazie mille all'ISTD per l'organizzazione del corso e per aver reso questa esperienza così piacevole, e un rigraziamento particolare a Jill Knight per la profonda professionalità e dedizione con cui ha condotto il corso.