News from around the Globe - December 2014
Examiner Paula Goodyear reports on a trip to Mauritius
I have recently returned from Mauritius where the ISTD invited me to examine and teach. Tania our International Development Coordinator successfully planned my trip down to the last detail. Dancing in Mauritius is still in its infancy, but this is made up for with enthusiasm, a great desire to learn, and improve.
On arriving in Mauritius I was met by Huguette Cupidon and her husband Christian, who are the main dance teachers on the island. They have an excellent school with many medallists and social dancers. Huguette's father first brought ballroom dancing to Mauritius, he passed his knowledge and enthusiasm on to her. During my stay in examined many medallists from social dance tests to gold, all pupils of Huguette and other teachers on the island. Jean Ralph and Monique Yardin took student teacher Latin American examinations and Huguette Cupidon took licentiate Latin American. I am very pleased to report they were all successful. Generally, a good standard, especially as this was only the third ISTD examination to be held there. The examination and teaching days were very well organised by Huguette. They took place in a private studio owned by Dr Marcel Li Sung Sang and his wife Josiane, who are very dedicated amateur dancers and medallists. The studio was beautiful, a really lovely place to work, thank you Marcel.
On the Saturday evening Huguette and her helpers organised an excellent dinner dance at the Chinese Club.
We were treated to very good Chinese food, champagne and wine. It was the first time that all the teachers on the island and their pupils had been together for a social evening. I was guest of honour. They produced a large poster welcoming the ISTD delegate to Mauritius and a large cake with ISTD iced on it. The teachers and I huddled together and cut the cake, and then it was distributed to everyone. I was welcomed by Dr Marcel Li Sung Sang, I responded myself and on behalf of the ISTD. I finished by saying, "friendship through dance". Afterwards, during general dancing the floor was packed, a good time was had by all.
After the work was finished I had a free day before flying home. Huguette and Christian organised a sightseeing visit to the north of the island, we were met by pupils Michael and Lynda who showed us around and took us to a beautiful hotel for lunch. In the evening Marcel and Josiane invited us to a lavish dinner of lobster and giant prawns in a superb restaurant.
Thank you to everyone for their hospitality and for making my visit so memorable. I am sure dancing will continue to flourish in Mauritius with the help of dedicated teachers under the banner of the ISTD.
Paula Goodyear
---
Report on BDFI - ISTD Seoul Cup
I was invited to Seoul to conduct examinations on behalf of the ISTD, along with another examiner, Mr Lawrence Chan from Hong Kong. We conducted Associate, Licentiate and Fellowship examinations. On completion of the examinations I was invited to adjudicate the 14th BDFI-ISTD Seoul Cup. This is a very prestigious event held in South Korea organised by Mr Kim Jong Moon, Miss Um and their organising committee of the KDTA. Once again the organisation and presentation of this event was of the highest standard.
The events were domestic and international, commencing with the children's events, then moving on to very high class youth, amateur and professional competitions in both modern ballroom and Latin American. The domestic finals were of a very high standard, it was very good to see international couples from South East Asia adding to the spectacle, glamour and competition of the international events.
One of the highlights of the day was the demonstration by Alexander Zhiratkov and Irina Novozhilova from Russia, showing their interpretation of ballroom dances. This couple danced with the great style, charisma and expertise that they always show in their work. A very enjoyable day of competition, that I was honoured to adjudicate.
Richard Hunt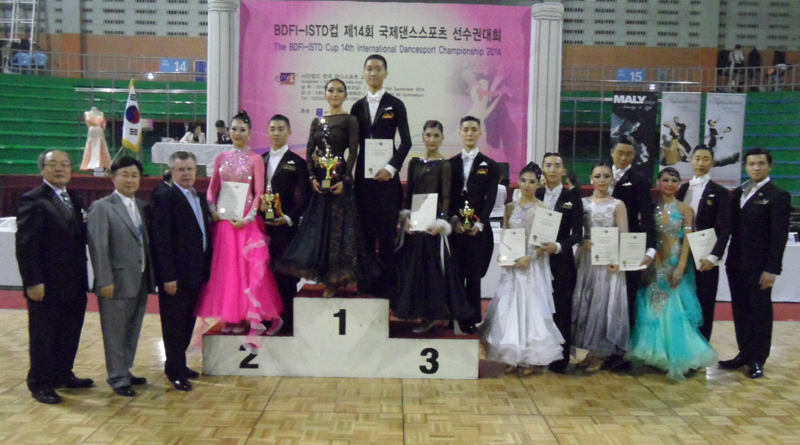 ---
Alison Forrester's Refresher Grade 4 and Revised Grade 5 Tap Syllabus Course in Greece
When Tania Trosini announced that we were about to have a course on the Grade 4 and Grade 5 tap syllabus in Greece, and that the course would be delivered by Miss Alison Forrester, I could not control my excitement. The last course held in Greece for tap dance was 14 years ago, with a brilliant lady, Deborah Capon.
The weather was wonderful. On a sunny weekend in October, Alison Forrester, creative team lecturer of the revised syllabus, reached the beautiful and welcoming school of Ms Rossolatou, where the two-day course was hosted. We cordially thank her for her hospitality. The feeling was great as familiar faces, older ones, as well as new met with cheer again, after so long!
After Alison talked about her relationship with Greece and how much she wanted to visit our country again, she started analyzing the development of the syllabus; the influences she had from her years of study and work in the United States, as well as from her teaching in England. Then we started: toeheel and shuffle pick up change. She easily managed to get us into this new world of hers, thanks to her amazing skills, her wonderful personality and her passion for tap dance, which for her is actually a way of living. We discussed rhythm, groove, technique, music, tap masters, history, rebirth of tap dancing, style and performance, and tap shoes. She covered as many subjects as she could in two days.
We all had such a wonderful time; being students again, as learning is a never ending process. We all felt so proud, even though we are just a small number of teachers, we made it happen! We have a community, still small but it exists. Tap communities, in general, no matter in which country, are communities in which you share knowledge, you make music, you dance and finally, you have fun. Tap dancers are musicians and dancers at the same time. How challenging is that?
I would like to express my heartfelt thanks to our teacher Ms Zelina Kilimi who was there at the course; we managed to reunite after all this time. She was the reason, many years ago, that most of us got involved and love tap dance, she supported our first steps.
Finally, I believe that our beloved and memorable Ms Deborah Capon would be proud to see Ms Alison Forrester teaching a bunch of Greek teachers' paradiddles and close work crawl. She was, and still remains our inspiration; a combination of an amazing teacher and an incredible person. Her personality, her ethos, her contribution to the world of dance will remain to all of us, unforgettable.
Angeliki Andrinopoulou
---
Report from a National Dance Teacher in Canada
My students from the Pia Bouman School for Ballet and Creative Movement took their National Dance Exam at Canada's National Ballet School in Toronto on June 1st 2014 with ISTD examiner Suzanne Plante.
Elizabeth took her Bronze Medal Exam and Clare, Audrey and Elizabeth took their Silver Medal Exam. For the project, Elizabeth prepared Spaghetti alla Vongole and Swedish saffron buns, Clare sang the Italian national anthem and Audrey made gelato.
Seven dancers took their Folk Dance Study Exams: the countries were England and Netherlands. Amelia presented her collage, Jane prepared food, Sauvanne researched costumes, and Alexandra, Kaitlynn, Tryfon and Alex investigated the countries' culture and history. For some of my students it was their first time taking the ISTD National Dance Exam while some had previous exam experience, but they all had a wonderful time and it was pleasure to meet Suzanne Plante. Congratulations to all my students!
Nagisa Inoue