News from Around the Globe - January 2013

Left: Minette de Klerk and students following exams in Durban, South Africa
Right: Gwenda Britten, staff and students at Bahrain Ballet Centre
---
Courses
With effect from 1st January 2012, all non-UK courses will be arranged by the Education and Training Department at ISTD HQ. Information on courses will be available on the ISTD website but if you wish to contact the team to ask any questions on courses, the email address is intcourses@istd.org
---

Left: Paula Lopes and students after Modern exams, Johannesburg, South Africa
Right: Trish McKenna, Tessa Wessels and students after Modern exams in Pretoria
---
Methods of paying examination fees
Teachers will know that they can pay their examination fees by bank transfer, cheque or credit/debit card and these options are further explained on the 'revised payment document', sent out by your Examinations Officer. We wish to make non-UK teachers aware that, with effect from 10th April 2012, a 2% handling fee will be added to the total of exam fees/private lecturing fees.
---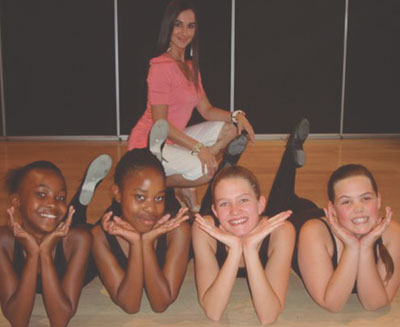 Tanya Amaro with Modern students following examinations in Johannesburg, South Africa
---
Small change to the credit note process for non-UK teachers
Teachers are still able to submit medical notes if candidates are absent from examinations. Once it has been processed, the International Examinations Department will email the 50% credit note back to the 'Teacher 1' from the exam day in question. Please note, we shall no longer mail credit notes – but will keep this on record here at ISTD.
A teacher will still have a calendar year before the credit note expires and when the teacher wishes to redeem the credit note, the teacher will simply write/type the credit note number onto the 'revised payment document' and return to their Examinations Officer by the closing date for the examination session. We do not require you to print or return the credit note to us.
---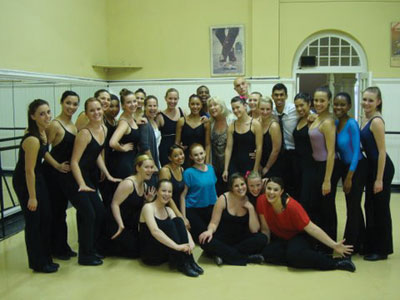 Delia Sainsbury and students from The Waterfront Studios following examinations in Cape Town, South Africa
---
Imperial Ballet Performance Awards
The Imperial Ballet Faculty has announced that the Performance Awards will cease to be examined from 31st December 2012.
---
ISTD Cecchetti Member, Josephine Spaull, is Awarded the Order of Australia Medal
Josephine Spaull studied dance in England and joined Marie Rambert's Ballet Rambert with whom she became a soloist. Josephine migrated to Western Australia in 1960 and began teaching for Linley Wilson. Later she opened her own Ballet school in Perth and, when the Cecchetti Society was brought to Western Australia, she helped Mavis Holdcroft and Lyn Grandison to establish it here.
For many years Josephine acted as the secretary and organiser for the Cecchetti Society in Western Australia and worked very hard to promote the ISTD here. After Perth she later moved to Kalamunda. Josephine also worked very hard to take Ballet classes to country students, travelling to Bruce Rock and various centres on the way there, returning the following day and teaching at different centres on the way back to Perth. Alternate weeks she would drive up to Wongan Hills and return to Perth via Dalwallinu, Miling and Moora. Josephine also retained adults living in the country areas who had studied Ballet as children and enabled them to qualify as teachers so that these areas would have resident teachers of Ballet.
After the death of her mother in 1985, Josephine moved to Bridgetown and continued teaching Ballet in country centres in the south west of the state for many years before retiring due to ill health a few years ago.
While dancing for Ballet Rambert, Josephine travelled to New York with the company and the Shakespeare Company to present a magical production of Shakespeare's A Midsummer Night's Dream. She later helped the Darlington Players to produce it at the Parkerville Amphitheatre, providing her own dancers for the dance sequences, which was a very successful production.
The Cecchetti Society of Australia, West Australia Branch